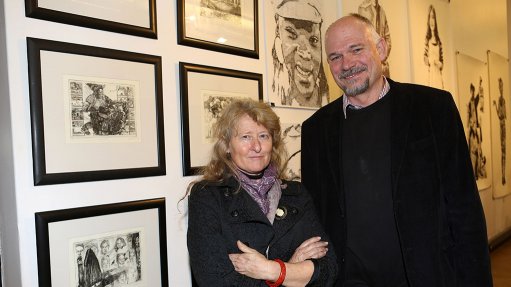 Company Announcement - Zendai Development South Africa, the local subsidiary of Hong Kong listed Shanghai Zendai has reiterated its support for the arts and has come on board as a sponsor to present South African artists' at the Beijing Biennale scheduled to take place during September 2015. Zendai Development SA is currently involved in developing the multi billion rand Modderfontein New City, north east of Johannesburg. The project announced last year is expected to be completed over the next 15 - 20 years.

An exhibition which included a selection of the artworks to be shown at the Beijing Biennale was launched at the UJ Art Gallery. The exhibition co-curated by Gordon Froud, senior lecturer at the Faculty of Art, Design and Architecture and Professor Karen von Veh of the Department of Visual Arts at FADA - incorporates a broad range of works by established and emerging South African artists addressing their experiences of the first twenty years of democracy in South Africa. The exhibition which will run from 1 July to 5 August 2015, offers local artists the opportunity to showcase their work as well as inform how the vacillating social and political landscape at the dawn of democracy came to influence and shape art.

The exhibition showcases more than 200 works by 115 exceptionally talented artists, amongst others William Kentridge, Mary Sibande, David Goldblatt, Diane Victor, David Koloane, Kagiso Pat Mautloa, Vusi Beauchamp, Clive Van der Berg, Paul Emmanuel, Kim Berman, Roger Ballen, Matt Hindley, Marco Cianfanelli, Jodi Bieber, Manfred Zylla, Andy Robertson, Christo Doherty, Mbali Dhlamini, Bevan de Wet, Phumilani Ntuli and Jaco van Schalkwyk, are a canvas of a very diverse range of influences on their own artistic environment growing up in a young democracy.

Anthony Diepenbroek, CEO, Zendai Development SA says, "Our commitment and support goes beyond simply promoting local artists. We want the world to view this art as the voice of democracy." Zendai also announced that it will sponsor one of the artists' to travel to China to attend the 6th International Beijing Biennale later this year. The artist will be identified by the organisers and the co-curators of the exhibition. "This is the second time in as many months that we are here at the University of Johannesburg as ardent supporters of the arts; we view this as a demonstration of our commitment to the promotion of the arts, artists and education."

"The Beijing Biennale is an important initiative, most notably during 2015 which is Year of in South Africa. Giving deserving artists' an international platform will surely encourage them to have a wider perspective on their role in a free South Africa," Diepenbroek adds. Zendai SA maintains a strong commitment towards promoting arts and very recently brought Li Bin's "A Tribute To Mandela" to South African shores.