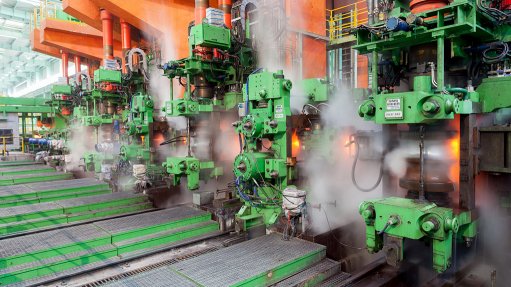 First mill for semi-finished products with hydraulic roll gap adjustment and roll gap control successfully commissioned
The Chinese company Xining Special Steel Co., Ltd, Qinghai Province, a leading producer of high-grade and specialty steel, has granted the SMS group (www.sms-group.com) the final acceptance certificate for the successfully commissioned mill for semi-finished products.
The mill comprises a reversing roughing stand and a finishing mill with eight HCS® (Hydraulic Compact Stands) in horizontal/vertical arrangement. All millstands are equipped with roll adjustment systems and hydraulic systems for axial adjustment of the rolls. In combination with a control concept and an integrated inline profile gauge (MEERgauge®), this innovative rolling concept sets new standards in terms of dimensional accuracy of the final products and economic efficiency of the mill. For the first time, it is possible to roll even large round bars within narrow rolling tolerances.
Thanks to the hydraulic adjustment mechanisms in combination with the latest measuring technology, even the narrowest rolling tolerances in the range of ¼ of the DIN EN value can be achieved. Furthermore, the ASC® control system (Automatic Size Control) allows quick and automated adjustment of the finishing mill, saving time and money.
Xining Special Steel is now able to produce high-quality round bars from high-grade and specialty steel in diameters between 80 and 280 millimeters at an annual production capacity of 800,000 tons.
Following the beginning of commissioning work on the SBQ bar mill also supplied by SMS group, the mill for semi-finished products was installed, tested and successfully commissioned in a mere few months.