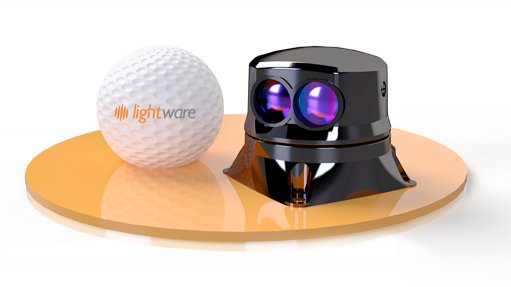 The SF45 microLiDAR from LightWare LiDAR
With the ability to navigate terrain and spaces inaccessible to humans, drones and other autonomous vehicles have changed the way many industries operate. Despite their numerous advantages, however, autonomous machines are vulnerable to accidents that can damage the vehicles and their cargo.
US-based company LightWare LiDAR, specialists in laser range-finder technology, proclaim that it is able to give drones and robots "the gift of sight" through the use of its Light Detection and Ranging (LiDar) sensors.
The company affirms that it is taking autonomous machines to a new level, with the introduction of what it says is the world's smallest, lightest, scanning LiDAR sensor. The new SF45 microLiDAR, is designed to lower the risk of accidents and potential damage to costly autonomous vehicles and their payloads.
LightWare LiDAR CEO Philip Constantine explains: "The SF45 democratises machine perception, bringing vision, safety, and practicality to even the smallest unmanned systems. Autonomous machines don't have 3-D depth perception, so they can't make sense of unexpected features. Our sensors give them eyes that can even see around corners."
"These sensors enable futuristic technology to function in the real world, putting drones and other autonomous machines on a whole new level, where they become more useful here and now," says Constantine. "They've really proven their worth in a world dominated by Covid, enabling the delivery of vaccines and medical supplies to places that are otherwise inaccessible."
Weighing in at only 59 g and measuring a diminutive 51 mm x 48 mm x 44 mm, the innovative sensor will be suitable for applications across multiple industries. In addition, all data is processed on-board, which means that a dedicated processor is not required, leading to further cost and energy savings.
The sensor can be mounted with a vertical or horizontal field of vision ranging from 0.2 m to 50 m, adjustable from a few degrees up to 320°. Unlike cameras that see images, LiDAR creates millions of data points to "see" objects, which helps to ensure privacy. It also navigates and detects obstacles in real-time and provides real-time results, adding to a dramatic reduction in the likelihood of accidents.
The SF45 microLiDAR sensors can be used in a range of applications, such as humanitarian and medical deliveries, navigation, collision avoidance and terrain tracking, as well as in Internet of Things applications. LightWare highlights that its LiDARs have flown over the North pole and into volcanos, have helped with sea rescues, enabled medevacs from war zones, and have even been used in outer space.