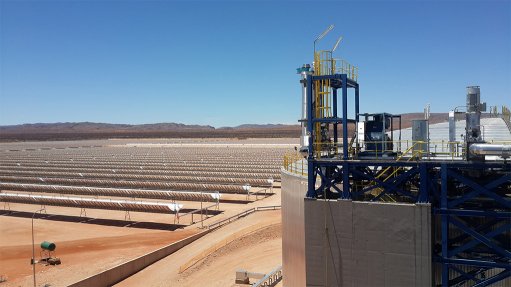 FULL LOAD ACWA Power Solafrica's Bokpoort concentrated solar power plant has a thermal storage capacity of 1 300 MWh
Power developer ACWA Power Solafrica's Bokpoort concentrated solar power (CSP) plant reached full operation capacity – ahead of schedule.
The R5-billion project, near Upington, in the Northern Cape, has one of the highest solar radiation footprints in the world.
Construction began in June 2013 and was completed in November last year, when the plant first synchronised onto the national grid. The plant has been supplying much-needed power at full load since December, says Bokpoort CSP plant CEO Nandu Bhula.
The plant currently produces enough electricity to power more than 200 000 homes.
ACWA Power Southern Africa business director Chris Ehlers further points out that the coordination between the owner, the engineering, procurement and construction contractor and Eskom, as well as other key partners, has been key in synchronising Bokpoort CSP slightly ahead of time with the national grid.
About 400 locals mainly from the !Kheis municipality helped to maintain the construction schedule during construction peak.
The Bokpoort facility comprises a solar field, which consists of loops of parabolic trough collector assemblies to absorb heat from the sun. The solar collectors can heat the heat transfer fluid to up to 393 °C. It also includes a thermal-energy storage system, grid interconnection, water abstraction and treatment systems.
The power block consists of a solar steam generator and a steam turbine delivering 50 MW (net), while the thermal-energy storage system consists of two tanks of molten salts.
The solar energy generated from the project will be fed into the national power supply network under a 20-year power purchase agreement as part of government's Renewable Energy Independent Power Producer Procurement Programme.
The thermal storage capacity of the plant is 1 300 MWh (thermal), or about 9.3 hours of full load operation, which is the largest in operation for a solar power plant of this class, the CSP Trough. The are other plants in construction with larger storage, but on tower plants.

"The thermal storage system works like a rechargeable battery that is charged during the day to be used when needed, especially during the peak periods and at night," Bhula reiterates.
Ehlers explains that the Bokpoort CSP can be operated as a peaking plant, similar to Eskom's diesel-fuelled gas turbines, but is more economical and does not emit carbon dioxide.
The company has also invested more than R3.5-million in education, local skills transfer and community infrastructure for key beneficiary, the local !Kheis community, over the past two years.

Meanwhile, ACWA Power will continue to work with various role-players to provide more solutions for South Africa's energy challenges.
These solutions include further work on the next-generation CSP technology, such as Redstone CSP plant, also in the Northern Cape. The project will have a footprint of about 8 km2 and will be even more cost effective in closing the gap to conventional baseload power, with a nominal net generating capacity of about 100 MW with 12 hours of thermal storage.
ACWA Power is working on the financial close of Redstone CSP, while construction of the plant is due to start later this year.
The total project cost for Redstone is estimated at R10-billion, with an expected commercial operation date of early 2018.