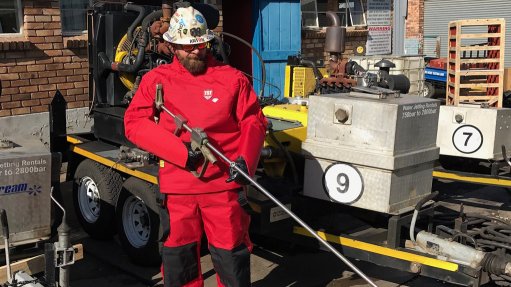 SPECIAL DESIGN The personal protective equipment was designed to not restrict operator movement and flexibility
Since the beginning of the year, industrial supplier and solutions provider Total Blasting – a subsidiary of Total Product Solutions Group – has sold more than 50 sets of water blast and water jet personal protective equipment (PPE) and the company foresees this number steadily growing at a yearly growth rate of 15%.
"This increasing growth rate is due to an increasing market share and growing awareness, as water jetting operations can't take place unless the appropriate PPE is worn. Nonetheless, additional buy-in from asset owners is required to further increase growth," says Total Blasting sales director Bradley Storer.
The PPE, manufactured by Sweden-based protection equipment manufacturer TST Sweden, can protect operators from water jets of up to 3 000 bars, or 43.5 kpsi.
TST Sweden manufactures technologically advanced textile-based safety equipment, which Total Blasting says satisfies essential requirements of the European Directive 89/656/EEC, which is the directive for use of PPE.
TST Sweden's PPE is International Organisation for Standardisation (ISO) 9001:2001- and ISO 14001:2004-accredited, and it can be used in several industries, such as petrochemicals, power and mining.
He adds that the TST PPE – which was launched in 2008 – is "unique" in that it offers full body protection (which includes full frontal, head, neck, shoulders, hand, leg and foot) as the garments are made from a light dyneema fibre, which offers increased material strength with a lighter weight.
"Besides offering the best protection from water jetting, it is also [very] flexible and comfortable, as the PPE was designed to not restrict operator movement and flexibility."
Storer notes that the company's offerings include a complete Sigma PPE kit that includes an overall and waistcoat; a complete Delta PPE kit that includes a waistcoat, trousers and hand protection; and a complete Gamma PPE kit that includes a jacket and trousers, a jacket with built-in hand protection, a waistcoat with an apron, as well as protective waistcoats and aprons, hand and hose protection, foot protection through gaiters and boots, balaclavas and a special grease remover which is used to clean the PPE.
Although the PPE comes with these features, he says that education is required in the market, as some operators and clients are not aware of the inherent dangers which are associated with water jetting.
"Water jetting, or blasting, operations involve streams of water that are under pressure. "It is the high pressure that can cause injuries similar to gunshot wounds, but it has the added health hazard of involving contaminated water," he explains.
"The hazards associated with this industry are numerous. Therefore, providing the correct PPE, and creating a safety-conscious culture, are key to improving operator safety and eliminating potential hazards," Storer concludes.