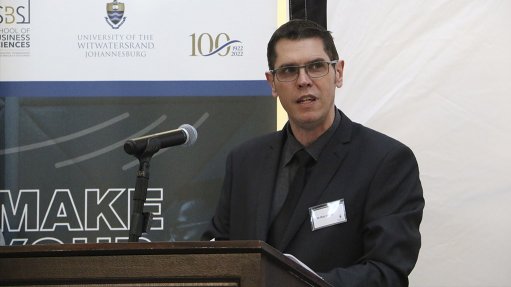 Wits senior lecturer Dr Robert Venter
University of the Witwatersrand (Wits) School of Business Sciences senior lecturer and project leader Dr Robert Venter on Friday described the new Wits Entrepreneurship Clinic (WEC) as a force for change and redress as it tackled the core challenges facing South African society.
Wits launched the WEC, which will develop and mentor aspiring entrepreneurs through the process of establishing successful businesses.
The Clinic is a response to South Africa's alarming youth unemployment rate, which currently stands at 60%. About 40% of graduates aged 15 to 24 and 15% of graduates aged 25 to 34 are unemployed.
The Wits School of Business Sciences partnered with the University of Edinburgh, the Wits Tshimologong Digital Innovation Precinct and the African Circular Economy Network (ACEN) to launch the Clinic as part of the British Council's Innovation for African University programme.
Venter explained that the Clinic's own journey began 15 years ago when the idea of providing support to students and community entrepreneurs was proposed.
He said the development of an entrepreneurship community had been a passion that was shared by many of his colleagues over the years.
Venter noted that the work of the Clinic sought to address South Africa's youth unemployment crises through involvement in the School's clinical programme, where students would learn skills and make practical knowledge gains outside the lecture halls. This, Venter said, would improve their employability as young graduates.
Secondly, the mentorship component of the programme would allow for the development and acceleration of businesses that were established and run by community entrepreneurs as well as the university students.
Venter announced that Wits would be working with the University of Edinburgh to develop the focal areas for the Clinic based on an approach developed in Edinburgh and in South Africa. The university would work with Tshimologong Digital Innovation Precinct and ACEN to address the challenges of the digital divide and climate change.
"We believe it is an important part of building a more equitable community to share knowledge and resources, skills as well as insights and that our volunteers will not only get to do important work in the Clinic but will have that ethos of mentorship," he said.