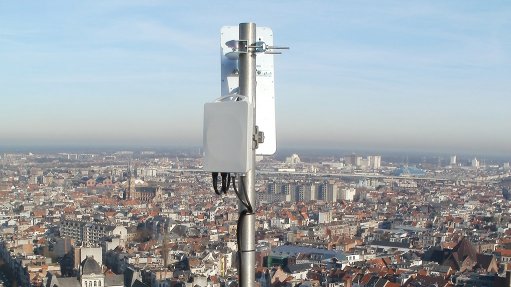 CABLE COMPANION Wireless solutions allow for rapid and affordable deployment for data transfer
Photo by: Radwin SA
The cabling industry is significantly important in terms of long-term benefits for and the economic growth of South Africa, as it delivers more data transfer capacity through cable roll-out than wireless technology, which should, however, be regarded as complementary to cable roll-out, says wireless solutions provider Radwin South Africa (SA) sales director for Southern Africa Nick Ehrke.
"We can extend the data-transfer reach of the cable roll-out using wireless technology without compromising throughput, security and reliability," he says, emphasising that wireless solutions can also improve the availability of a service, as they do not face the same challenges as cable.

The cost of cable roll-out, comprising data cables in fixed, installed lines and used by communications providers to deliver a service, remains prohibitive, especially in rural areas, with the additional challenges of lengthy and expensive deployment, as well as cable theft, Ehrke points out.
He notes that cables are often not replaced when stolen, owing to the high costs, thus affecting an area's productivity and economy.
For this
reason, Ehrke shares the view of Radwin Middle East, Southern and East Africa GM Peter Turvey that wireless broadband solutions are one of the most viable options for rural Africa, citing its ability to extend network reach rapidly and affordably, as well as its robustness and long range in challenging topographies, as key benefits.
Despite cable roll-out being ideal because it offers large throughput volumes, it offers only a certain point of presence and reach, Ehrke points out, adding that the easiest way to reach consumers and businesses and provide high-capacity connectivity to transfer data is through wireless point-to-point or point-to-multipoint communication alternatives.
Other benefits of using wireless solutions include increased affordability and, therefore, increased competition in the wireless solutions industry, Ehrke says, noting that a key driver is the ever-increasing demand for connectivity and wireless solutions.
However, while demand is significantly increasing, current fixed-line operators and mobile operators are unable to meet this current demand.