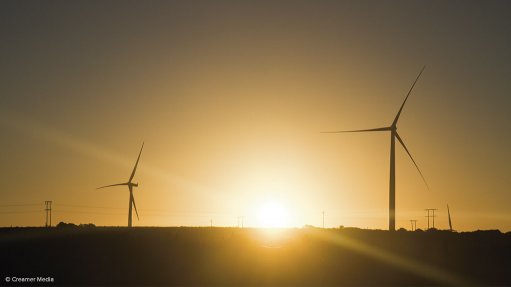 REACHING FOR CLIMATE GOALS The wind industry has witnessed record growth in recent years
Photo by: Duane Daws
The Global Wind Energy Council (GWEC) reports that wind industry growth has meant a 5% increase in employment in the sector, which has employed 1.1-million people globally.
The
GWEC highlights the socioeconomic benefits generated by the global wind industry, in addition to supplying clean power. Global Wind Day is a global event commemorated annually on June 15. It is billed as a day for discovering wind energy, its power and the possibilities it holds to reshape the world's energy systems, decarbonise economies, build new industries and create new jobs.
The increase in employment figures is mainly due to strong installation rates in China, America and Germany. New job creation is being driven by declining renewable- energy technology costs and enabling policy frameworks.
Governments continue to struggle with high unemployment rates in many parts of the world, making this and the potential for future new employment in the wind industry increasingly significant.
"We are getting bigger, better and cheaper. The wind industry has witnessed record growth in recent years, which not only helps the world to meet the climate goals agreed in Paris in 2015 but also generates much-needed new jobs and boosts local economies – to about $110-billion last year," says GWEC secretary-general Steve Sawyer.
Meanwhile, corporations are increasingly investing in wind energy. Clean energy procurement is standard practice for some of the largest and most profitable companies in the world, including multinationals such as US technology company Apple, online social media and social networking service Facebook, US technology company Microsoft, US technology company Google, US telecommunications conglomerate AT&T, science company DuPont and automotive corporation General Motors.
Sawyer states that the GWEC is thrilled to see the rapidly growing number of companies opting to source their power from wind. These leading global companies show that wind makes economic sense, besides protecting the environment – it is what their customers want to see. While government action is needed, the real change happens when investors make economic decisions which lead industry in the right direction.
Wind power was the largest source of new power generation in 2015. Led by wind, renewables are transforming the power sector, bringing along a host of other environmental, social and economic benefits across the globe. The macroeconomic effects are increasingly a factor in political decision-making about our future energy choices.
Meanwhile, the Renewable Energy Policy Network for the 21st Century (Ren21) recounts that the 'Renewables 2016 Global Status Report' reveals that renewables are now firmly established as competitive, mainstream sources of energy in many countries around the world.
Ren21 adds that 2015 was a record year for renewable-energy installations. Renewable power- generating capacity saw its largest increase ever, with an estimated 147 GW added. Modern renewable heat capacity also continued to rise, and renewables use expanded in the transport sector. Distributed renewable energy is advancing rapidly to close the gap between the energy haves and have-nots.
These results were driven by several factors. First and foremost, renewables are now cost competitive with fossil fuels in many markets.
Sawyer says: "A record 63.5 GW of wind power was installed worldwide in 2015, demonstrating the maturity of the sector and showing how renewables are supplying competitive, reliable and clean energy to fuel economic growth and cut carbon dioxide emissions, while, at the same time, creating new jobs, new industries, and enhancing energy security."
In addition, government leadership continues to play a key role in driving the growth of renewables, particularly wind and solar, in the power sector. As of early 2016, 173 countries had renewable-energy targets in place and 146 countries had support policies. Cities, communities and companies are leading the rapidly expanding '100% renewable' movement, playing a vital role in advancing the global energy transition.
Additional growth factors include better access to financing, concerns about energy security and the environment and the growing demand for modern energy services in developing and emerging economies.
"What is truly remarkable about these results is that they were achieved at a time when fossil fuel prices were at historic lows, and renewables remained at a significant disadvantage in terms of government subsidies. For every dollar spent boosting renewables, nearly four dollars were spent to maintain our dependence on fossil fuels," concludes Ren21 executive secretary Christine Lins.