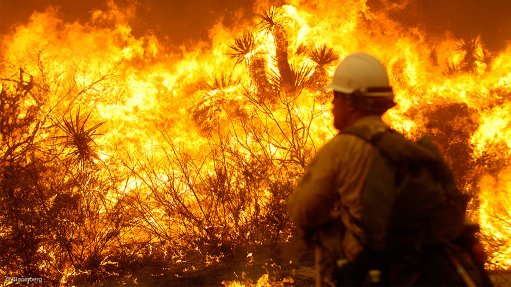 ACTIVE APPLICATION The Advanced Fire Information System currently has 30 pilot projects worldwide
Photo by: Bloomberg
To achieve its aim of increasing global interest in its satellite-based Advanced Fire Information System (Afis), South African research institute the Council for Scientific and Industrial Research (CSIR) launched Afis in East Africa three months ago and plans to launch it in West Africa by the end of September.
"The installation of a reception station in Kenya for Afis East Africa, and the installation of a reception station in Ghana, currently under way for Afis West Africa, will allow for seamless coverage of near real-time fire detection across sub-Saharan Africa," says CSIR Meraka Institute information and communication competence area manager Lee Annamalai.
As a wildfire-detection, monitoring and alerting system, Afis uses satellite sensors and imaging to alert personnel, including disaster management staff, fire-protection association personnel, infrastructure owners and land managers, to fires. Users can view real-time and historical fire data, explains Annamalai.
The system scans a 50 m2 area for small fires six times within a 24-hour period, and a 5 ha to 10 ha area for larger fires every 15 minutes.
He adds that Afis incorporates Fire Danger Index (FDI) information to send a four-day FDI forecast, which includes weather and vegetation conditions, location-specific alerts and notifications, to users.
Afis derives the active fire-monitoring data from several polar orbiting and geostationary satellites, such as the European Organisation for the Exploitation of Meteorological Satellites' Meteosat Second Generation, or MSG, satellite; the Geostationary Operational Environmental Satellite, in North America; and the MTS2 satellite, in Australasia.
It also uses data derived from the US National Aeronautics and Space Administration's Terra and Aqua satellites that carry the Moderate Resolution Imaging Spectroradiometer.
Afis Footprint
Afis is South Africa's first space- application export and currently has 30 pilot projects for fire detection, fire-danger indices and burnt-area assessments worldwide, says Annamalai, adding that Afis is actively used daily in 40 countries worldwide – from Chile to Portugal.
The CSIR has, therefore, further upgraded the Afis dashboard software interface, which has been supplied to more than six fire-protection associations in the Western Cape, since the beginning of this year.
Annamalai states that more than 40 South African fire-protection associations and several other local institutions, including State-owned power utility Eskom, currently use Afis. Eskom uses the system to detect fires near its national transmission network infrastructure, which has enabled the utility to reduce the number of fire-related power outages, he notes.
The real-time and 14 years of fire archive information in the Afis database also supports South Africa's National Veld and Forest Fire Act, he notes, adding that "Afis is a proactive measure for fire detection, enabling fire- protection associations to increase their preparedness and response times to deal with wildfires".
Meanwhile, since the launch of the Afis mobile application (app) in November 2013, more than 3 500 downloads worldwide of the app have been registered, notes Annamalai.
He says the Afis system regis- tered more than 10 000 user interactions with the system in South Africa in 2013, through the website and the mobile app, while sending out close to 170 000 email, Twitter and SMS alerts. The user interactions number doubled in 2014, he states.
He further notes that there were 23 699 queries in 2014 for Afis data in South Africa and 45 241 global user interactions. "More significantly, the number of queries for Afis data spiked from January to March this year by 13 431, as a result of the Western Cape wildfires. The number of queries at the beginning of June totalled 21 820 in South Africa and 67 445 globally. We had already sent out 18 236 real-time global alerts by the end of March," he adds.
Afis Watchtower Forest Application
To further support its global footprint, another Afis innovation – the Afis Watchtower app – will be used in a pilot project, in Portugal, this month, Annamalai tells Engineering News. The pilot project will run for three months and then be rolled out to other forestry clients in Africa and South America.
He explains that the Afis Watchtower app enables fire spotters in watchtowers in large forests to use a mobile app, whereby they point the cellphone in the direction of the fire to lock in a bearing.
They then use a slider – which is a simple scrolling button on the screen – to provide an estimated distance from their position in the watchtower to the fire, which will then appear as a pin drop on the app's map. When the spotter shares the data, it will become available on Afis and be triangulated between other fire watchtowers, explains Annamalai. The app is locked to a specific user, who must register with the system to prevent abuse and false reporting.
"We are focusing on rolling out the Afis service globally and are making significant progress," he highlights.
The CSIR believes that Afis is "a crucial resource" locally and globally, which is why the institute is researching fire-spread prediction, which will be added to Afis in the future. Annamalai expects the research to be final- ised in 12 to 18 months.