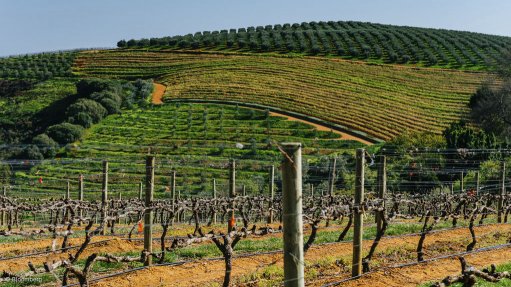 UNIQUE ENVIRONMENT The Western Cape plays a key role in South Africa's agricultural sector, with a unique rainfall pattern allowing for a mixture of agricultural activities
Photo by: Bloomberg
Supported by the Western Cape government's strategic initiatives to help farmers grow their crops – and their market share – the province's official tourism, trade and investment agency Wesgro has successfully committed investment in the Western Cape agriculture sector of R1.56-billion over the past three years.
Western Cape Economic Opportunities Minister Alan Winde has estimated that the province's agroprocessing sector contributed R12-billion in gross value addition (GVA) in 2013 and, under a high growth scenario, the sector's GVA contribution is estimated to increase by 126%, to R26-billion in 2019.
Wesgro agribusiness head Amanda Tshaya explains that population growth in developing countries is driving demand for agricultural products globally, adding that the fastest population growth is occurring in sub- Saharan Africa, with an increase from 0.96-billion people to 1.22-billion people projected between 2016 and 2025.
She points out that this growing demand can be largely satisfied through agricultural efficiency improvements in the region, which require only small expansions to existing production bases, crop areas and livestock herds.
South Africa is a diverse country agriculturally, producing a range of vegetation types as a result of varied biodiversity, climates and soil types and, in 2015/16, the sector was valued at R247 098-million, contributing R72 608-million to the country's gross domestic product.
The agriculture sector has grown by an average 2.2% each year since 1994, with Tshaya attributing its prominent role in the economy to its backward and forward linkages to other sectors, such as the retail, financial services, manufacturing and processing, transport, packaging and agro-tourism sectors.
"Agriculture is, therefore, a crucial sector in South Africa and an important engine of growth for the whole economy."
The Western Cape plays a key role in this sector, with winter rainfall in the winelands and all year rainfall in the southern Cape allowing for a mixture of agricultural activities – including field crop production, horticulture, animal production and forestry and mixed farming – unique from the rest of the country, which experiences summer rainfall.
Most importantly, however, Tshaya highlights that the Western Cape outperforms all other provinces with regard to agroprocessing exports, with more than half of South Africa's exports from the agroprocessing value chain originating in the province.
In order to maximise the potential of the province's agriculture sector, in 2015 the Western Cape government launched Project Khulisa, which aims to focus government initiatives on a set of high-priority, practical projects that have the potential to unlock opportunities where the province has a clear, but unrealised, competitive advantage.
The agroprocessing sector was identified as one of the key areas for influencing both economic growth and job creation in the province and, under the auspices of Project Khulisa – which means "to grow" in isiXhosa – ten agroprocessing subsectors have been provisionally selected for strategic support, including wine, brandy, beef, pork, fruit juice, breakfast cereals, essential oils, cosmetics, olive oils and yoghurts.
This strategic move was further bolstered in May last year, when the Western Cape Climate Change Response Framework and Implementation Plan for the Agricultural Sector, also known as the SmartAgri plan, was launched, outlining a coordinated response from government and the private sector to mitigate the impact of climate change on the province.
The final assessment outlines six strategic projects, including the prioritisation of conservation agriculture, restoring ecological infrastructure, ensuring water security, transitioning to low-carbon agriculture through renewable energy, climate-proofing agroprocessing growth and drawing on integrated knowledge systems for climate smart agricultural extension.