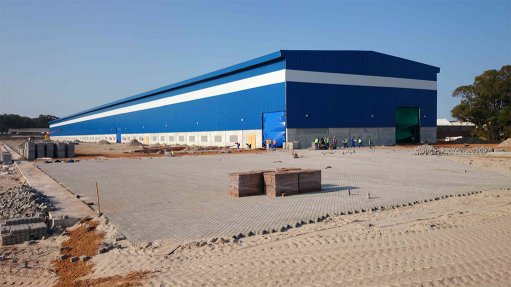 GRI Renewable Industries is investing in a R300-million wind-tower factory
The Western Cape government's GreenCape sector development agency is finalising work on an application to have the Atlantis industrial area designated as a green-technology (greentech) special economic zone (SEZ).
Atlantis SEZ project executive Mike Mulcahy tells Engineering News Online the feasibility study has been completed and that GreenCape is hoping that Atlantis will be among the first zones designated by the Department of Trade and Industry (DTI) during 2015.
The SEZ Act 16 of 2014 has been passed by Parliament, assented to by President Jacob Zuma and is expected to come into effect before the end of 2014. The legislation is expected to open the way for a number of sector-specific industrial hubs, where tailored tax and other incentives will be offered, including a possible corporate tax rate of 15% – South Africa's prevailing corporate tax rate is 28%.
Mulcahy says SEZ designation is viewed as a logical extension to the province's ongoing efforts to position itself as Africa's greentech manufacturing hub, as outlined in a recently published green economy strategy framework.
Jenny Cargill, who is special adviser to Western Cape Premier Helen Zille on the green economy, tells Engineering News Online that the Atlantis SEZ is viewed as a core component in attracting greentech investment into the province. It is also seen as the natural next step in Atlantis' own industrial evolution.
Situated about 40 km north of the Cape Town central business district, Atlantis has already been able to attract a R300-million wind-tower investment by Gestamp Wind Steel's GRI Renewable Industries.
The investment has been facilitated by City of Cape Town and the Western Cape province's accelerated land disposal policy, where environmental and zoning authorisations have been pre-approved for parcels of vacant city-owned land.
GRI Renewable Industries project and plant manager Christiaan Botha reveals that several potential development sites were evaluated, but the accelerated land disposal policy raised Atlantis' overall attractiveness.
"Correctly zoned land with pre-approved environmental authorisations allowed us to start construction 18 months sooner than at any other available land option," Botha explains, adding that the Spanish company eventually purchased 7.8 ha from the city for the development of a 17 000 m2 facility.
Production of the first tower section will start mid-November and the factory will have the capacity to produce 150 standard steel masts a year – the wind tower masts will be 36 m in length with section weights of up to 90 t.
The investment has received a 12i tax incentive and Botha says the company has also expressed an interest to participate in any new incentives associated with a SEZ. But even if no further incentives are extended, an SEZ could " bring our supply chain closer to us".
"We are hoping that the SEZ will attract not only large manufacturing firms but also engineering consultancies and small and medium-sized suppliers . . . Atlantis would be the ideal incubator for entrepreneurs with a vision of supplying into the green energy supply chain."
However, Botha believes consideration should also be given to extending the concept beyond greentech to "clean energy", which would enable the SEZ to also attract investments in the nuclear and gas-turbine sectors.
Mulcahy says the SEZ application itself will be considered by the provincial government and by the city before the end of the year. Thereafter, a formal application will be made to national government for designation.
Cargill stresses that the province has green-economy aspirations beyond manufacturing, including in areas such as tourism, as well as resource and ecosystem management. Extensive market research has already been conducted to gauge the opportunities and work is currently being undertaken to formalise the green-economy framework into specific strategies, policies and projects.
Specific budgets and institutional capacity is being established, but Cargill believes future success will depend strongly on the ability of the province and city managers to form a seamless approach to the green economy and to break down existing silos.
Uncertainty around policy, legislation and regulation remains an impediment and Cargill says the aim is to reduce the red tape and, where possible, standardise bylaws in an effort to improve the climate for green-economy investment.