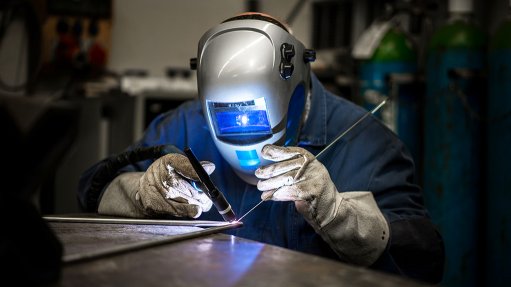 STIMULATING SIMULATOR The SAIW is using a welding simulator to enable students to gain hands-on experience before entering the workforce
The Southern African Institute of Welding (SAIW) launched online learning for students at its Cape Town and Durban welding schools in April after Covid-19 lockdown restrictions prevented students from attending lectures.
The students join lectures taking place in Johannesburg through digital platforms and can complete up to 80% of the theoretical aspects of the welding technology courses.
Exams would have to be undertaken at SAIW's Johannesburg, Cape Town and Durban branches where the exams can be invigilated. Importantly, some aspects of the training include practical aspects that need to be done in person.
"The online school, for Cape Town and Durban students, was initiated after the demand for continued learning was realised," explains SAIW executive director John Tarboton.
He says the online-school benefits are multifaceted: "Not only does the online option keep students up to date with the curriculum but it also enables them to interact with other students and lecturers during the lecture, should the student have any questions."
He adds that SAIW has found that most students study from home or their place of work, wherever Internet access is readily available, making it more cost effective, with less travelling.
Alternatively, students have the option to go to SAIW branches where the courses are live streamed from Johannesburg on projector screens. This means that students do not need access to the Internet if they come in to the branches.
Meanwhile, one of the initiatives that the institute has implemented since the lockdown began is simulator technologies.
Tarboton points out that using a RealWeld simulator, which had not been fully utilised, has also helped the SAIW to continue with hands-on training during the Covid-19 pandemic either at SAIW branches or at the premises of its members.
The RealWeld combines simulated welding training with live welding and allows the computer to assess both the simulated and live (real) welds. This is the latest welding training technology on the market today. The RealWeld can also be used in the assessment of potential recruits to the workplace in a quick, cost-effective manner. This equipment has only recently been acquired by SAIW.
The simulator enables a lecturer to assess whether a student has sufficient knowledge of the welding technologies before being placed in a practical situation where the actual welding can be assessed.
"Should a student require further simulator guidance, it can be implemented before exposing the student to a somewhat dangerous environment," says SAIW business development manager Etienne Nell.