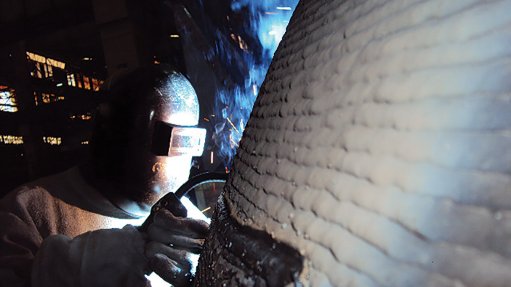 As a Welding Alloys Group subsidiary, Welding Alloys South Africa (WASA) has access to a vast source of knowledge and technology, bringing world-class products and solutions to African countries.
WASA's market-leading chromium carbide wear-resistant plate material is well-known throughout various industries. However, WASA's product range and services extend far beyond wear plate solutions and include its tried and tested Column Cladding technology. This technology provides corrosion protection for specific areas in distillation columns and has been used in various paraxylene columns globally. Advantages of this solution include ultra-low dilution, the use of nickel-based consumables, distortion management during welding, as well as pre- and post-welding non-destructive testing (NDT), all of which lead to a substantial increase in wear life.
WASA's MillCarb technology has been successfully used in the refurbishment of coal mill grinding components and has outperformed all other technologies in full-scale industrial trials conducted in the US. MillCarb is a fully repairable welded solution whereby ceramic-carbide particles from an external source are added to the molten weld metal, resulting in a multi-layer weld deposit with uniform wear properties from top to bottom.
Additional solutions provided by WASA include the supply of nickel and cobalt-based cored welding consumables for the refurbishment and protection of components vulnerable to corrosion, thermal wear or a combination of both. These consumables are manufactured in Europe and include some of the best-in-class products available on the market. The superior properties and excellent welding applications of these consumables have led to their use across the globe and in some of the most demanding areas of the petrochemicals industry.