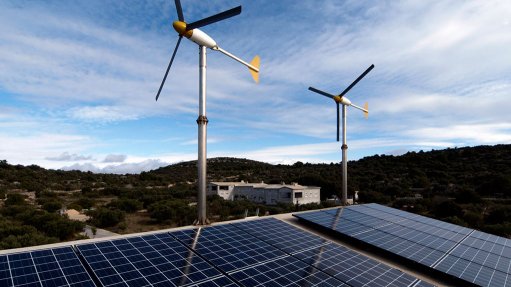 A hybrid wind and solar energy system in Croatia
The World Economic Forum (WEF) says unprecedented disruptions from Covid-19 threaten the transition to clean energy, globally.
However, the current Covid-19 health and economic crisis presents an opportunity to rethink how energy is produced, supplied and consumed, it states.
In a clean energy transition study, the WEF has found that 94 economies out of 115 measured have made progress on clean energy transition since 2015.
"However, the coronavirus pandemic risks cancelling out recent progress in clean energy transitioning, with unprecedented falls in demand, price volatility and pressure to quickly mitigate socioeconomic costs, placing the near-term trajectory of the transition in doubt," the WEF states.
It further explains that Covid-19 has forced companies across industries to adapt to operational disruption, changes in demand and new ways of working, and that governments have introduced economic recovery packages to help mitigate these effects.
If implemented with long-term strategies in mind, these could also accelerate the transition to clean energy, by helping countries scale their efforts towards sustainable and inclusive energy systems.
"This giant reset grants us the option to launch aggressive, forward-thinking and long-term strategies leading to a diversified, secure and reliable energy system that will ultimately support the future growth of the world economy in a sustainable and equitable way," says WEF energy and materials head Roberto Bocca.
ENERGY TRANSITION INDEX
The WEF's 'Energy Transition Index (ETI)' report for 2020 benchmarks 115 economies on the current performance of their energy systems. Countries are scored along 40 indicators on a scale of 0 to 100.
The global average ETI score for 2020 is 55.1 out of 100. While this indicates the first year‐on‐year decline in the global average ETI score since 2015, with 55% of the countries registering declines, the medium‐term trends are positive.
The results show that 75% of countries have improved their environmental sustainability, even as the global average score for this dimension remains the lowest of the three categories assessed.
This progress is the result of multifaceted, incremental approaches, including pricing carbon, retiring coal-fired power plants ahead of schedule and redesigning electricity markets to integrate renewable energy sources.
However, this hard-won progress highlights the limitations of relying only on incremental gains from existing policies and technologies to complete the transition to clean energy, says the WEF.
The greatest overall progress is observed among emerging economies, with the average ETI score for countries in the top 10% remaining constant since 2015, signalling an urgent need for breakthrough solutions – one threatened by Covid-19.
Sweden leads the ETI for a third consecutive year, followed by Switzerland, Finland, France and the UK.
These countries share common attributes, such as limited energy subsidies, reduced reliance on imports, achieved gains in energy intensity of gross domestic product and increased political commitments to pursue energy transition and climate change targets.
South Africa, meanwhile, ranks at 106, with a transition readiness of only 38%.
The best-performing sub-Saharan African country on the index is Namibia, at 64, with a 52% transition readiness rating.
The WEF believes Africa needs to prioritise energy access programmes in terms of street lighting, district heating and cooling, cold storage for goods and pharmaceuticals, urban sanitation and traffic management.
This while energy security is increasingly vulnerable to extreme weather events, as well as cyberattacks.
"While the gaps between what is required, what is committed, and what is likely to be achieved remain large, the compounded disruptions from Covid-19 have destabilised the global energy system with potential short-term setbacks.
"Ultimately, greater efforts are needed to ensure that recent momentum is not just preserved, but accelerated in order to achieve the ambitious goals required," the WEF says.