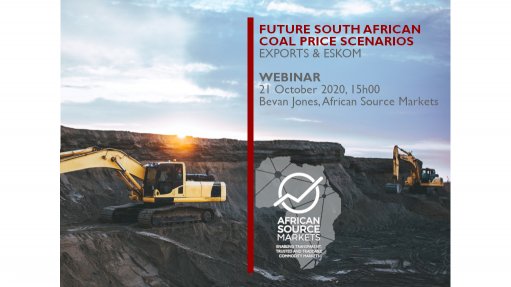 With global sentiment around coal having never been so negative, and South Africa still highly dependent on the fuel for years to come, what are the potential future pathways for both the South African export price, as well as local coal prices for Eskom?
This webinar, presented by African Source Markets CEO Bevan Jones and hosted by Creamer Media's Contract Publishing, aims to explore some of the key drivers and issues facing both domestic and export coal markets. It will also consider the changing South African landscape, as both production and demand start to shut down. It will also focus on issues around the Just Transition, and whether the weak South African Rand will continue to save South Africa's coal miners.
This is a must attend webinar for anyone interested in the future of the South African energy sector, exploring some of the likely pathways from 2020 to 2040.
The webinar is free to attend, but space is limited, so be sure to register your details today – click here: https://bit.ly/3jK88lK