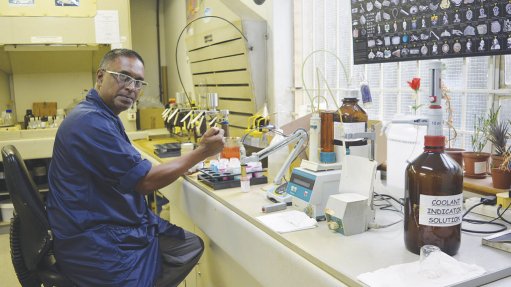 Condition monitoring specialists reduce maintenance costs.
Africa's leading oil condition monitoring company, WearCheck, has been in business for over 40 years.
The company specialises in condition monitoring solutions and the scientific analysis of oil and other fluids from mechanical and electrical systems. WearCheck helps to boost the availability and reliability of components, thereby helping their customers to operate more efficiently and save money on maintenance.
WearCheck's customers operate in many industries such as mining and earthmoving, transport, shipping, industrial, aircraft and electrical.
Alongside the traditional fluid analysis services, the company provides reliability solutions (RS) services, transformer chemistry services (TCS) and advanced field services (AFS).
The RS team specialises in many RS techniques, the TCS team monitors trans-former oil to reduce the risk of unexpected downtime, while the AFS team offers non-destructive testing, technical compliance and rope condition assessment.
WearCheck has 15-world class laboratories across Africa and beyond. The RSA labora-tories are in Johannesburg, Cape Town, Durban and Middelburg, with support offices in Bloemfontein, Rustenburg, Steelpoort, Port Elizabeth and Khatu. International laboratories include Mozambique, Ghana, Zimbabwe, DRC, Namibia, India, Dubai and Zambia.
WearCheck is the only oil analysis company in Africa with an ISO 9001 quality certification, an ISO 14001 certification for its environmental management programme, and an ISO 17025 accreditation for its laboratory-centric quality management programme and is currently working on its ISO 45001 for health and safety management.
Dedicated, ongoing investment in new technology and staff training ensures that all equipment in WearCheck's laboratories is state-of-the-art, and employees are highly skilled. Laboratories are largely automated and integrated with the latest information technology. Research and development play a major role in the company's continuous commitment to improving systems.
Meanwhile, WearCheck's condition monitor-ing app makes their condition monitoring expertise available at one's fingertips at all times. An unswerving commitment to ethical operations and accuracy ensures
that WearCheck's operational areas are managed ethically and independently to ensure the company's products and services comply with strict international standards.