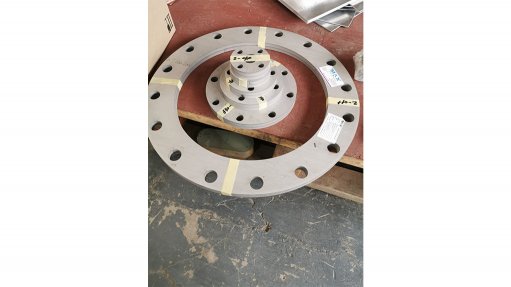 PERFECTLY NESTED The flanges and seals made on the new CNC waterjet machine are suited in design and material for perfect nesting
Waterjet cutting service provider MaxJet Global has invested in a new computer numeric control (CNC) waterjet machine to bolster its specialised flange and seal offerings for the valves sector.
The CNC waterjet machine, one of the first installations of its kind in Africa is equipped with newly developed waterjet technology provider Omax USA intelliMAX technological software and, together with the experienced MaxJet team, ensures that the flanges, seals and gaskets being manufactured can be effectively nested.
"Effective nesting optimises material selection and minimises waste," says MaxJet Global director Preeshan Naidoo.
He explains that process flanges, seals and gaskets made of various alloys as well as blades made of duplex stainless steel – all components found in the manufacture of gate valves – fall within the company's cutting portfolio.
The company can also assist valve manufacturers in analysing the data of specific flanges or seals and the materials used in the manufacture of the parts.
"We found notable successes for the use of duplex stainless steel in these areas, subject to our data on hand," he enthuses.
Further advantages to advising on using the correct material grade for the cutting of components is the application of MaxJet's technological process.
He points out that, as the new CNC machine uses water, it does not create any heat-affected zones, which are non-melted areas of metal of which the material properties have changed, as a result of exposure to high temperatures.
Negating heat-affected zones prevents the discolouration of materials and limits any 'dross or splatter' from heat processes, ultimately keeping all the intrinsic properties of the metal intact.
A privately procured metallurgist can, if needed, provide further recommendations based on all data collected from the testing of alloys to suggest the most appropriate alloy for the valve or parts in questions.
Further, the company has had many successes and works closely with metals supplier Multi-Alloys, which "has a sound reputation within industry", to supply alloys, says Naidoo.
He enthuses that Multi-Alloys stocks most exotic alloys, offers a sound service and can advise clients on the correct use of materials, depending on the application.
Naidoo says improvements in waterjet cutting technology has led to an increase in demand for the waterjet cutting option as opposed to the other thermal cutting applications.
"Laser cutting is a faster, cheaper process and is ideal for many applications. However, waterjet cutting is a cold cutting process; therefore, the metallurgy of materials is not disturbed in any form."
He adds that waterjet cutting can also process most materials such as ferrous, nonferrous, composites, rubber and plastic.