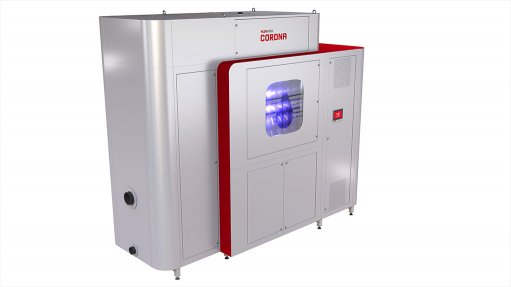 PURI-FECT The Flowrox Corona uses cold plasma technology to purify wastewater before being reintroduced into the environment
Earlier this month, flow control, filtration and environmental technology supplier Flowrox launched its Flowrox Corona non-thermal plasma water-treatment technology at the Aquatech expo, in the Netherlands.
The Flowrox Corona was selected as one of the finalists for the Aquatech Innovation Award 2019 in the Waste Water Treatment category, which acknowledges high-quality innovation and technologies that have the potential to disrupt the global water market.
"Globally, more than 80% of all wastewater is discharged into the environment without being treated," says Flowrox sub-Saharan Africa MD and global engineering and construction solutions director Henlo Blignaut.
He adds that the number of deaths caused by insufficient access to clean water and inadequate sanitation are reported to "grossly outweigh" the number of deaths caused by droughts, floods, earthquakes, epidemics and conflicts.
Flowrox Corona is a unique industrial water-treatment technology, as it uses non-thermal plasma in direct contact with water to destroy dissolved organic pollutants. It eliminates the need for the transportation, storage and handling of risky disinfection chemicals, thereby mitigating costs and environmental risks.
The Flowrox Corona turns direct plasma oxidation into an industrial product. The design ensures a very large plasma-water contact area and efficiently removes pollutants from water. Its robust reactor core tolerates the introduction of difficult wastewaters and requires no air pretreatment or compressors to produce and deliver the oxidants to the water.
The reactor core is made of stainless steel and there are no moving parts, which makes Flowrox Corona truly a low-maintenance system. The plasma electrodes are not corroded by the process and the hydrodynamic design provides a very high plasma-water contact surface area.
The company has undertaken an extensive marketing drive to highlight its being a safer and more environment-friendly solution, as opposed to ozone, ultraviolet and chemical treatment.
"We are using our website, mailshots and social media to get the word out," enthuses Blignaut.