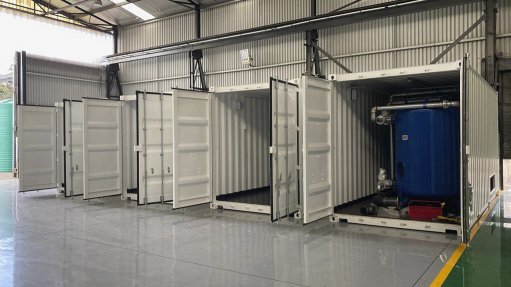 CONTAINERISED WATER TREATMENT PLANTS Without the containers, the capturing, treatment and storage of river water cannot be done and Mauritius would face a water shortage
Industrial water treatment solutions company Watericon has been tasked to design, build, transport and install a containerised water treatment system for the island of Mauritius.
The system aims to capture lost rainfall and unused surface water and convert it into potable water fit for human consumption.
The island, situated about 2 000 km off the south-east coast of Africa, has good rainfall, but the inland rainfall not only ends up in the rivers and becomes unsuitable for human consumption but is also diverted through the river system into the sea and is lost completely, untreated and unused, explains water treatment services company Watericon process engineer Jaco Branders.
The Central Water Authority (CWA) of Mauritius does not want to rely on using a desalination process because of the costs, hence Watericon's finding a solution.
"Watericon developed a containerised water treatment system capable of treating this water and making it suitable for potable use to benefit the communities in Mauritius."
Without the containers, the capturing, treatment and storage of river water cannot be done and Mauritius would face a water shortage. Moreover, this water needs to be treated, as diseases and infections can arise, adds Branders.
The containers will be placed at various key points to capture the river water, after which it will be filtered and disinfected, and then sent to reservoirs for storage and distribution around the island, he says.
Further, the project consists of 11 containerised water treatment plants, consisting of 4 m × 6 m containerised filtration plant at 85 m3/h, which means that the 6 m containers can supply 85 000 𝓵/d of clean water and a 7 m × 12 m containerised filtration plant at 105 m3/h, which will supply 105 000 𝓵/d of clean water, which can reduce turbidity and suspended matter, as well as disinfect the water.
The conventional filtration technology used, making the plant fully automated, includes telemetry and remote monitoring – allowing for all the plants to be monitored at any time without physically having to be on site at the plants, says Branders.
The systems are fully transportable and can easily be relocated and reinstalled at other sites.
Watericon is in the installation phase of the project – with its commissioning team scheduled to arrive on site on November 30, 2021 – and the aim is to complete the commissioning of all 11 containers by December 21, 2021, says Branders.
"We had 20 weeks to design and build the containers and these containers arrived in Mauritius between November 15, 2021 and November 19, 2021 and the client is only starting to place the containers into position."
Branders also highlights that this is the largest number of containers to be awarded in one tender by the CWA in Mauritius; the key driver was that not many companies could put together 11 containers during the required timeframe.
Watericons' ability to produce a product of high quality and in such a large quantity within a short time – amid issues such as Covid-19 and the consequent global shipping crisis, as well as threatening civil unrest in South Africa – shows its commitment to the project.
Branders adds that implementing products and identifying innovative solutions, such as the containerised water treatment system, will help assist in meeting Africa's unique water treatment challenges.
He concludes that identifying other countries for projects like this and deploying tried-and-tested solutions in their communities is the key to ensure water security in Africa.