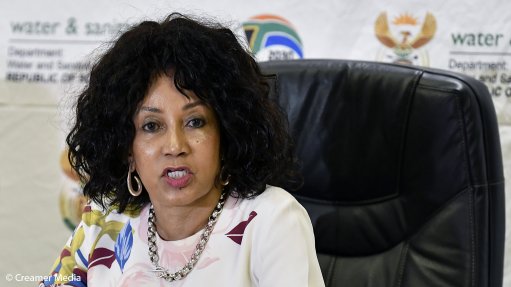 Minister Lindiwe Sisulu
Photo by: Creamer Media's Dylan Slater
Water-stressed South Africa has to decrease the amount of water consumed or face the prospect of "water-shedding".
The Department of Water and Sanitation on Monday urged citizens to heed calls to reduce water demand, as the country enters the summer period with water restrictions.
With decreasing dam levels in many parts of the country, unprecedented high temperatures and a lack of rain, besides others, South Africa is feeling the impact of climate change.
"We need to use water sparingly," Human Settlements, Water and Sanitation Minister Lindiwe Sisulu reiterated, noting that the earliest rainfall will be experienced in December.
Further, rainfall will become harder to predict and the very dry seasons are getting longer, more intense and more frequent.
"The situation is serious," she said, adding that while there was no need to panic, it was critical that water demand be reduced.
"There will not be a need for water-shedding if water consumers adhere to calls to save water."
Water-shedding is the equivalent in the water sector of the load-shedding implemented by State-owned power utility Eskom, in an effort to stabilise the constrained national grid and reduce consumption of electricity.
Currently, much of Gauteng, the Eastern Cape and Mpumalanga, besides other provinces, remain severely water-stressed.
Rand Water CEO Sipho Mosai said water consumption, since September, had surged by more than 500 megalitres to 5 000 megalitres a day, from its previously steady use of 4 368 megalitres a day.
Broken down to an average per person, this represents water use of 320 l per person a day, more than double the 170 l/day average globally.
Excluding nonrevenue water, this decreased slightly to 300 l per person a day.
"Rand Water is working hard to manage the water demand requirements of our municipal and industrial customers in Gauteng, North West, Free State and Mpumalanga provinces," he said.
However, the current combination of extremely high temperatures and virtually no rainfall within Rand Water's area of supply has resulted in high water consumption levels, which is placing a significant amount of stress on the system.
Rand Water has placed restrictions on water use in the regions it governs, across parts of the North West, Mpumalanga, the northern regions of the Free State and Gauteng.
This means that gardens must not be watered during the day, pools must not be topped up and showers kept to under two minutes.
"There is no need for the public to panic at this stage; but it is imperative for water consumers to be prudent in the way they use water," Sisulu said.