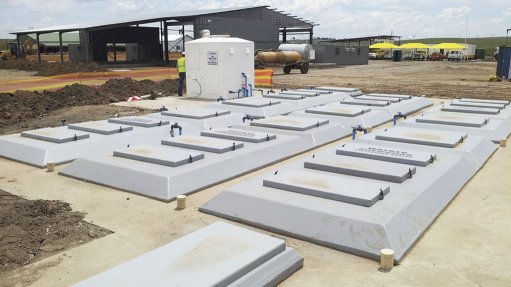 REUSE AND RECYCLING An underground wastewater treatment plant installed by Interwaste last year that will ensure that efficient reuse of water at the site
In an era where conserving water is growing ever more critical, given the shortage of fresh and drinkable water, recycling and reuse plays a pivotal role in driving forward sustainable solutions that will allow for the longevity of South Africa's water supply, says waste management business Interwaste sales and marketing director Jason McNeil.
"It is crucial that all South Africans take on the responsibility of water conservation and that companies and individuals regard water as a scarce resource and investigate ways in which they can reduce their water footprint."
McNeil advocates the Department of Water and Sanitation's National Water Week campaign as a key platform for advancing this agenda by encouraging discussions around the role of water management in community and economic development. The yearly awareness campaign, taking place from March 17 to 23, encourages introspection on what measures can be taken to preserve water in South Africa and, most importantly, educates consumers and corporates on the vital roles they ought to play in this endeavour.
Raising awareness on this subject is imperative, as he notes there is certainly a lot of room for organisations to implement water management practices in their operations, which he says must become integral to companies' overall business strategy.
"Corporate South Africa can play a critical role in managing South Africa's water crisis by taking responsibility for its contribution to the shortages the country is facing and identifying ways in which it can conserve water."
He highlights that this may include implementing programmes to educate staff on the ways in which small behavioural changes can contribute towards water conservation in an organisation, as well as integrating wastewater treatment processes into operations. He points out that the treatment of wastewater to required standards as set out by the national environmental agencies can provide a key solution for ensuring that water is reused efficiently.
"We have found that 100% of effluent can be recycled, if done properly, which means that a large bank of water will become available that might previously not have been considered 'safe' for people or the environment.
"Water quality is as critical as quantity if it is to be of any use."
McNeil stresses that the company has used its expertise as a waste management company to identify feasible ways of conserving water, focusing on the disposal, reuse and recycling of industrial and municipal wastewater as an additional section of its business.
In addition, the company has focused on recycling grey water within its operations for use in areas such as irrigation and dust suppression. McNeil notes that, with the advancement of technology, effluent can be treated to replenish rivers and catchment areas and even be used as potable water in areas with low water supply.
"Our business aim is to reduce pressure on all natural resources and remain focused on delivering waste management solutions that do not add to the stresses on the environment, but rather create sustainable solutions throughout the waste value chain – of which water forms a critical pillar."
McNeil highlights that Water and Sanitation Minister Nomvula Mokonyane is predicting that it will take up to three years for South Africa to recover from the drought crisis – the longer it takes South Africans to implement sustainable water preservation efforts, the longer it will take to recover.
He notes that a failure to address this situation timeously will result in tough economic times ahead for the country as consumers and businesses – especially the agriculture sector – will be subject to widespread price inflation as a result of low water availability, power supply interruptions, and health hazards will also be exacerbated.
"The degree to which we rely on water for social and economic development makes it ever more critical for corporate South Africa and households to preserve water in every way possible – and beyond this, to find ways in which to reuse water," he concludes.