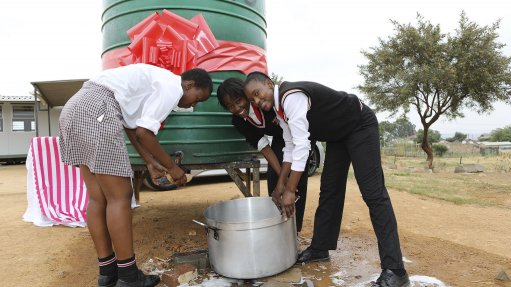 A CELEBRATION OF WATER The borehole, which produces water from an aquifer, is expected to supply enough water to at least 3 000 learners
About 38 Engen Fuel Retail owners undertook an eight-month task to transform the schooling facilities in Diepsloot, Gauteng, by working on a water and classroom project for learners who are mainly from disadvantaged backgrounds.
The project, which was officially handed over to Diepsloot Secondary School No 3 in October, was supported by Engen Fuel Retail owners, Engen head office, drilling company Blue River Drilling, container supplier Container Conversions, nonprofit organisation Planact, cash management and payment solutions provider Cash Connect, and technical consulting and support services provider Kgwebong Consultants, besides others.
Blue River Drilling was responsible for the water aspect of the project. Owing to the school's not having had clean drinking water for many years, the company used its very own innovative drill rig solutions, the Bobcat and Skidsteer, for this project. Blue River Drilling director Brian Barry says, following the completion of the project, the school can now pump 65 000 ℓ/d of water.
"The school is situated on an old landfill, so our first step was to locate the water. Once that was done, we drilled to get through the landfill and ensure that there is no contamination into the borehole, sealing it off while the casing was taking place," he tells Engineering News.
"The company used a special "drill and drive" method to get through to the natural ground, where they had to drill for an additional 50 m to reach the aquifer. Following that, the borehole was lined with polyvinyl chloride casings," says Barry.
"We also had to gravel-pack it to filter the water as it came into the borehole. The water was then sent to the lab for testing and, luckily, the results came back clean. However, to be on the safe side, we still put in some of our filters and an ultraviolet light to ensure quality."
He highlights that the company was "very happy" to get involved with this project and hopes to do more to assist schools in getting clean, potable water.
Further, Sunrise Secondary School and Diepsloot Primary School – adjacent to Diepsloot Secondary School – which also did not have access to water, can now access clean water supply through this project.
Meanwhile, Diepsloot Secondary School No 3 has maintained a 100% matric pass rate over the past three years, courtesy of the passionate and dedicated teaching staff and learners.
This is also despite many challenges, among which was the school's not having running water for its about 1 200 learners, says Engen Fuel Retail corporate social investment committee member Tshepo Magadla.
"We believe in the term: No water, no education. Therefore, we are passionate about giving back and believe that education can set these learners free and enable them to develop. This is why we have ensured decent schooling facilities and drilled a borehole at the school."
The borehole, which produces water from an aquifer, is expected to supply enough water to at least 3 000 learners. The borehole now also provides a water connection for the school's ablution facilities and vegetable garden.
"Running water at the school will not only resuscitate the school's vegetable and greening projects but also presents an opportunity to educate learners about water conservation. We are privileged that we could involve members of the community with the digging of trenches for the water connections, and reward them for their work," adds Magadla.
In partnership with Container Conversions, the Engen retailers managed to provide the school with extra classrooms, an air-conditioned exam hall, a staff lounge, a container library and a fully fitted kitchen with running water.
The company also managed to secure a book donor for the library.
The schools in Diepsloot fall under the Schools Nutrition Programme, where women in the community cook food delivered by government.
"If there is no water, then these women cannot cook. And for some of these kids, those are the only balanced meals that they are able to receive. We will go back to the school next year to ensure that everything is still in order. We are challenging other retailers to do more, as there is a huge need for social upliftment as a means to support the Department of Basic Education."
Moreover, the funding raised for the project by the Engen Gauteng Central West franchisees was matched by Engen as part of the company's Engen Dealer Community Partnership Programme.
Other positive spin-offs resulting from this project include sanitary towel distribution from primary school level upwards, a team-building course for the school staff and a modern digital school bell system.
Magadla advances that there is an opportunity for more of these kinds of projects, as the company had identified a huge need to assist communities.
"We want to keep extending a helping hand to the communities around us. Some of our employees come from Diepsloot and their kids go to schools in that area. The aim is not to just dish out money, but to make a real difference in people's lives," he concludes.