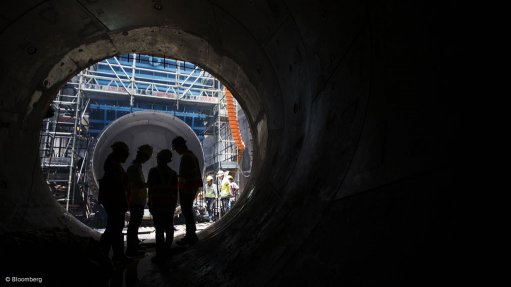 LIGHT AT THE END OF THE TUNNEL If the private sector invests in water infrastructure projects, it can help ensure water security
Photo by: Bloomberg
It is essential for the private sector to proactively contribute more towards the upliftment of water infrastructure and services in South Africa, said water engineering company Talbot economist Mike Smith and Talbot strategic director Helen Hulett during a seminar on South Africa's water "crisis", held in Sandton, last month.
Smith said that, without urgent intervention, water-shedding was likely to flank load-shedding in the near future – further deterring foreign and local investment in the country.
Currently, only about 2% of South Africa's sanitation water services, and about 3% of other water services, have been commercialised and outsourced to the private sector.
Problems affecting South Africa's water security include ineffective government management and planning, as well as low levels of catchment.
These issues are compounded by global climate change effects – some areas of South Africa are expected to experience as much as an 8 ºC rise in temperature by 2099, as a result of climate change, leading to higher levels of evaporation.
Although South Africa is considered a water-scarce country, it has historically managed to meet water demand.
However, factors such as increased demand, substandard management of resources and inadequate infrastructure will result in water availability significantly decreasing in the coming years, accompanied by a significant price increase.
Further, South Africa is expected to have a 17% catchment deficit by 2030.
Hulett noted that investment of about R391-billion would be required over the next ten years to rehabilitate South Africa's water infrastructure, while about 33% of South Africa's water service providers had been classified as "completely dysfunctional". In this regard, about 44% – or about 450 – of the country's water treatment works are classified as being in a "critical condition", while 11% – or about 110 – of the water treatment works are classified as "dysfunctional".
"Our water crisis is far more imminent than the global crisis," she stated, emphasising that the private sector was not the cause of the problem, but could actually be a significant part of the solution.
She said that, as early as this year, businesses should expect to experience an increase in water supply failures, dry season water restrictions and water quality problems.
Meanwhile, as a result of increased climate change attention globally, businesses can expect to have to adhere to more stringent performance and disclosure requirements regarding water.
Hulett added that political pressure on business would rise as more communities struggle to get safe drinking water, particularly in small towns and rural areas.
"Businesses' water will be shut off in favour of keeping water flowing to communities," she said.
This social and political instability is likely to not only reduce international investor confidence further but also affect the stability of the workforce.
"It is likely that businesses will be saddled with the responsibility of keeping the water flowing if they want to continue operating. The private sector will increasingly be looked to for the solution," she said.
Hulett said the outsourcing and decentralisation of water supply services were in line with global trends. However, South Africa is a late adopter of this methodology out of necessity rather than forethought and innovation.
Smith added that, while water tariffs would continue to rise steadily in the global market, the rise in South Africa will be significantly steeper.
He explained that, in 2018, the global average tariff increase for water was 3.8%, compared with South Africa's average water tariff increase of 10%. There was a much higher tariff increase at some municipalities, with Cape Town's tariffs increasing by as much as 43%.
"Total water costs in South Africa will continue to rise at double-digit escalation rates for the foreseeable future," he lamented, adding that failing infrastructure – which had depreciated at an average of more than 57% to date – and treatment costs were the main drivers of the tariff increase.
"Further, the Human Settlements, Water and Sanitation Ministry has acknowledged that water has been underpriced for quite some time, and is aiming to increase the price to better reflect its true value," Smith noted.
He advised businesses to minimise their exposure to these coming increases by reducing their reliance on water by minimising their water use while investing in water infrastructure to improve water security for their own benefit.
He concluded that international investors would be more likely to support water projects in the approaching water-scarce scenario, particularly wastewater treatment projects, and that first-movers would have an advantage.