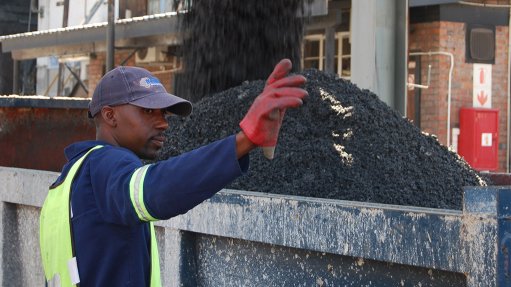 VIABLE TECHNOLOGY The refuse-derived fuels facility shreds general industrial and municipal waste to particle sizes of less than 20 mm to be used as an alternative energy source
Local waste management and environmental services provider Interwaste is in the process of commissioning a refuse-derived fuels (RDF) facility at its operational hub based in Germiston, Gauteng. Final commissioning will take place in the third quarter of this year.
"The facility puts general industrial and municipal waste, which would normally be sent to a landfill, through a complex shredding process to produce shredded general waste with a particle size of less than 20 mm. The shredded product is used as an alternative energy source for cement kilns and multifuel boilers," says Interwaste group sales director Jason McNeil.
Construction on the facility started in January and will be completed in September this year. McNeil adds that, while Interwaste spent the past five years identifying and investigating the RDF tech- nology, it only became locally viable in the past year.
The company's RDF facility follows the mid-2014 implementation and commissioning of Interwaste's Kaarlfontein-based alternative fuel-blending platform, in Johannesburg, which it constructed with cement producer Lafarge Cement.
Interwaste and Lafarge pursued the blending-platform initiative to provide "a consistent supply of high-quality alternative fuel for coprocessing, as well as to provide excellent service to industrial waste generators".
The blending platform continuously accepts various suitable waste streams from industrial generators, screening their quality and processing them to produce a consistent waste-derived-fuel product. Hydrocarbon-based waste, such as heavy hydrocarbon sludges, oils and greases are processed to produce a viscous-liquid alternative fuel product.
This product is then transported to the Lafarge cement production facility in Lichtenburg, the North West, for coprocessing purposes. The facility has been designed to supply Lafarge and other cement producers with an environmentally sustainable, carbon neutral alternative to nonrenewable fossil fuels.
Legislative Pressure
McNeil emphasises the gravity of South Africa's new waste management regulations. He highlights that, in 2014, 17 new sections of waste management legislation came into effect, affecting the waste management value chain, which comprises waste generators, transporters and waste disposal facilities.
These include the National Environmental Management: Waste Amendment Act, which has specific parameters regarding the processing and reduction of waste disposal to landfill; the proposed law of zero-liquid-waste-to-landfill by 2017 and the regulation, proclaimed in July 2009, that any waste with a calorific value will be banned from landfill sites within the next five years.
"The new legislation on South African waste management is increasing the cost of compliance," says McNeil, adding that disposal-to-landfill costs have increased by an average of 15% a year over the past five years.
"Moreover, the cost to develop, operate and maintain new landfill sites is 400% more expensive than it was ten years ago," he says.
Nevertheless, McNeil points out that waste recycling and landfill avoidance have increased significantly in the past ten years: "Waste recycling and beneficiation, as well as landfill avoidance, have reduced Interwaste's landfill disposal by about 40% in this timeframe, with only about 60% of all the waste managed by the company countrywide currently being sent to landfill."
Attainable Goal
McNeil believes that achieving zero waste to landfill is a realistic and achievable goal, but points out that the high cost of alternative initiatives, compared with the cost of sending waste to landfills, are still hampering this reality.
The cost of conventional waste disposal will remain the benchmark against which waste generators will compare the cost of alternative solutions and their implementation; however, the increasing costs of disposing waste to landfill sites may prompt companies to pursue the alternative solutions, McNeil suggests.
Meanwhile, some new initiatives have become financially viable, such as the waste- derived-fuels blending platform, the cost of which matches the conventional waste-to-landfill costs, McNeil says.
These developments contribute to the cost benefits of alternative initiatives and to the enhancement of the environmental performance of the business.
McNeil adds that Interwaste's RDF solution is currently more expensive than landfill disposal; however, as disposal prices increase and technology costs decrease, price parity will be achieved in the near future providing generators with a "financially viable alternative". He further points out that the potential promulgation of a landfill tax will significantly increase the cost of conventional landfill disposal.
He acknowledges that the local waste management industry is lagging several years behind the European technological waste management innovations, but emphasises that more solutions are being introduced locally such as the R160-million, 4 MW anaerobic digestion facility in Bronkhorstspruit, Gauteng.
"The establishment of alternative-disposal or waste management strategies further stimulate innovation and create employment," suggests McNeil, citing multinational consumer goods company Unilever as an example of a company that regards the zero-waste-to-landfill initiative as more important than the cost of disposing waste to landfills.
Interwaste was appointed as Unilever's preferred waste management supplier for five manu- facturing facilities in South Africa in August last year, with the explicit terms of the contract stating that Interwaste delivers a zero-general-waste-to-landfill solution by January 2015, which Interwaste achieved in December 2014.