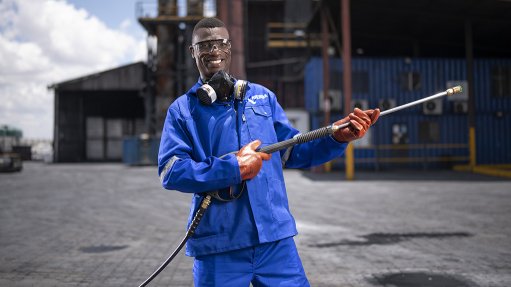 Businesses globally re-evaluated their approach to cleaning and hygiene regimes in 2020 owing to the pandemic
As South Africa prepares for the roll-out of millions of doses of Covid-19 vaccines later this year, waste management company Averda healthcare operations manager Gerhard van der Merwe tells Engineering News the company does not expect much change in the medical waste industry locally when doses of the vaccine start to be administered.
He says Averda has made provision with all of its medical waste container suppliers for a possible increase in the demand for sharps containers.
"Averda, over the years has dealt with many pandemics and hazardous outbreaks, such as the listeriosis outbreak in 2018 and cholera outbreaks from neighbouring countries," Van der Merwe notes.
He points out that the company's treatment facilities are well equipped to deal with the influx of the doses and related waste as soon as it arrives or is issued.
Averda has treatment facilities in City Deep Johannesburg, Klerksdorp, George and Killarney Gardens. Van der Merwe says these facilities will have sufficient capacity to handle the waste accordingly.
"As long as hospitals and everyone administering the vaccine follow the normal standard guidelines, use the correct containers for the used needles and sticks to the operational procedures, then there will be less risk when it comes to handling this type of waste," he emphasises.
Meanwhile, Averda also points out that one of the biggest changes last year was how businesses globally re-evaluated their approach to cleaning and hygiene regimes, including revision of waste management activities and protocols, owing to the Covid-19 pandemic.
Those changes will continue to be implemented this year, the company states.
It highlights that one of the most interesting developments at major companies has been that they are including their new cleaning and waste management protocols in their communication strategies and incorporating these into their brand messaging.
"What led to this is the environment of increased regulatory compliance, the public and businesses' demands for cleanliness and the importance of retaining and attracting new clients," notes Averda sustainability head Brindha Roberts.
Waste generators also have legal responsibility, under the National Environmental Management: Waste Act, to take all appropriate steps to manage waste in such a way that it does not harm health or the environment.
Owing to this, 2020 saw a change in the nature of residential waste. The Covid-19 pandemic has necessitated an increase in the use of personal protective equipment (PPE), and therefore, the disposal of medical-type waste within domestic waste streams for citizens to comply with new regulations.
Realising that waste had become more 'healthcare' focused – the waste management sector had to make some changes, including educating non-medical professionals on the correct way of handling their waste, especially items that previously were never considered hazardous, such as used tissues.
Secondly, public awareness was raised of the measures taken to protect frontline collection employees who handle waste. This includes handling and packaging of the 'new' waste that is being generated owing to the pandemic. This group of employees offering essential services are exposed to a significant health and safety risk, and these are the people directly employed by the waste management sector.
"Understanding this first-hand and how the pandemic impacted on the waste management sector, Averda ensured that protocols and procedures were updated to protect clients and staff from the beginning," comments Roberts.
Before the Covid-19 pandemic there were standard health and safety policies and protocols in place, but these were not enough, Averda says.
"While South African law focuses on the control of waste within organisations and communities, there is little legislation that specifically supports waste workers who are at the coalface of this vital and hazardous industry," Roberts points out.
At the start of the lockdown in March 2020, in particular, specific measures were implemented, including revision and training on stricter waste handling procedures, ensuring consistent supply of PPE, clocking stations upgraded to no-touch facial recognition biometrics, temperature testing and self-declarations (including co-morbidities) of all people who enter the sites.
High-risk employees were identified and on consultation with medical professionals, alternative work arrangements were made to limit their exposure.
Being a global company, Averda worked with its international teams to identify trends and adopt best practice and learnings even prior to legislation being enforced locally, the company notes.