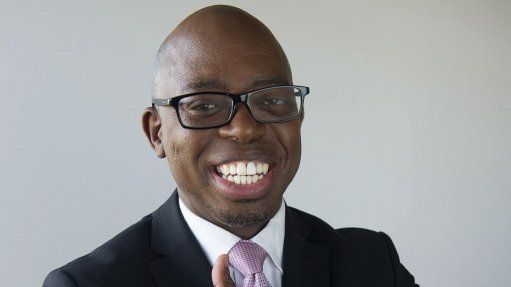 XOLILE SIZANI While the market remains under pressure, Servest has embraced new technologies to remain competitive and still maintain sufficiently good margins
There is an opportunity for the facilities management sector to leverage expertise from the supply chain and logistics sectors by replicating similar processes in its warehousing and logistic systems, says integrated facilities solutions company Servest CEO Xolile Sizani.
He tells Engineering News that, in a business environment where companies want to partner with clients to deliver facilities management solutions, it is imperative for companies to identify strategic partners who are going to assist them in providing holistic solutions for clients.
Servest has more than 1 000 drivers whose main role is to distribute and provide solutions such as cleaning, washroom maintenance, hygiene, the installation of rental equipment, among others, to clients.
The South African Facilities Management Association defines facilities management as a profession providing multiple services whose objective is to create a safe, comfortable, functional and efficient environment by integrating technology, people, places and processes.
As such, facilities managers are responsible for procuring value-for-money solutions that help clients achieve their triple bottom line strategies for profit, people and planet impact.
Additionally, Sizani highlights the importance of Servest optimising its route planning systems so that it can deliver to clients timeously and reduce its costs. While the market remains under pressure, the company has embraced new technologies to remain competitive and still maintain sufficiently good margins.
Speaking about opportunities in the warehousing sector in relation to integrated facilities management; Sizani says, "We need to have a very clear understanding of the available technological advancements that the warehousing and logistics sector has developed and emulate those into the facilities management sector to be efficient. For example, there are ways of optimising inventory management in warehousing environment. We would like to put together such solutions to further benefit clients."
He also notes that, in facilities management – by virtue of the volume and the fast movement of goods – companies will not succeed without an efficient warehouse and logistics management system.
Consequently, as the company operates within virtually every sector, it has unique experiences to create value for clients across sectors.
Sizani advances that Servest sees great potential to intensify its role in the healthcare, banking and finances, retail and transport sectors, as there is a significant opportunity for growth.
"There are concerted efforts by the company to grow inorganically into other sectors going forward. We recognise that to remain relevant to clients, there is a need to continuously develop solutions that can enhance our client's experience and extend our solutions offering to meet our client's broad integrated facility management needs."
Sustainability
The facilities management sector is among the biggest employers in the country, with subsectors such as cleaning, landscaping and security services; with Servest employing about 25 000 employees across the country. Therefore, more needs to be done to ensure its sustainability, especially considering the country's high unemployment rate, says Sizani.
He also notes that while facilities management is a profession by definition, it is often taken for granted. As such, he emphasises the need for awareness creation around the full spectrum on offer within this field to ensure that clients understand what the sector has to offer. This will, in turn, enable clients to play a part in driving employment through leveraging integrated facilities management.
"For many of our clients, facilities management is not their core business. The awareness creation campaigns that need to happen around the sector require that there be an appreciation of facilities management service because it adds value to organisations. Our interaction with clients needs to move away from being told what input is required to being told what output the client wants. This way we can help clients improve their profit, people and planet impact."
Further, Sizani tells Engineering News that as the South African economy is putting companies under immense pressure, those in the facilities management sector will have to accept the reality of the Fourth Industrial Revolution (4IR).
"While this may be a dilemma, given the level of manual processes that exist in the industry, this also presents opportunities for upskilling. The conversation about how we can mechanise and digitalise in this industry has long started. In South Africa, we have not advanced as much as we should, but there are countries that have automated their cleaning and security systems, for example."
He does, however, point out that Servest will aim to strike a balance between job protection and advancing these technologies.
"This requires reconsidering the training and development of our colleagues in this sector to ensure that they are empowered and equipped with the skills that they can use across different services.
"Organisations need to intensify the training of colleagues to ensure that they are ready to take up different opportunities that may arise because of the 4IR."
Therefore, Servest is investing heavily in training its employees and is embarking on a skills audit to identify the gaps that they need to bridge.