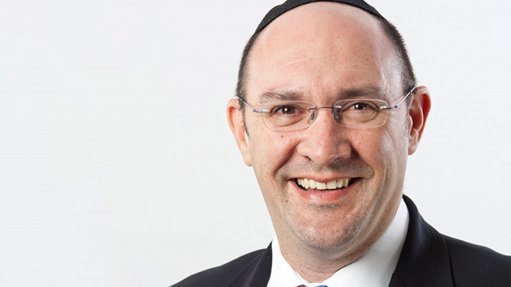 Vukile CEO Laurence Rapp
With its assets in Spain contributing 47% of JSE-listed Vukile Property Fund's earnings, CEO Laurence Rapp on Monday said the Spanish portfolio provided a rand hedge element and helped to protect the business from a stalled South African economy.
The company's Spanish portfolio is now valued at more than €1-billion, off the back of two acquisitions finalised during the six months ended September 30.
The company acquired a 30 000 m2 shopping centre called Puerta Europa, in Cadiz, while it invested €37-million in El Corte Ingles big-box units, which the company is redeveloping.
Vukile's property assets, in Southern Africa and Spain, are valued at R35-billion, of which 48% are in Spain through its 82.5%-owned subsidiary Castellana Properties. The company is now the eighth-biggest real estate investment trust in Spain by market capitalisation and seventh-largest retail landlord by gross leasable area.
"Vukile's in-built diversification means its assets and future earnings are split almost equally between Southern Africa and Spain. With its employment growth and an A-grade credit rating with a stable outlook, Spain is contra-cyclic to South Africa. This makes Vukile a solid rand-hedge property company," Rapp explained.
He added that Castellana had increased its net asset value by 3.1% and saw good deal flow and growth opportunities. Rapp said the business model had proved to grow base rentals and scale up value in an environment that was not over-retailed.
Vukile, for the six months ended September 30, grew its dividend by 3.5% to 80.84c apiece.
The Southern African portfolio delivered a strong performance despite South Africa having a distressed operating environment.
"The defensive nature of our grocery-anchored shopping centres, which mostly sell everyday goods to everyday South Africans and have a mix of retailers that offer necessities and value-driven items, is serving us well," confirmed Rapp.
Operationally, Vukile's tight focus and new internal structures helped to buck the trend and reduce vacancies to 2.8%, retain 82% of retail tenants and gain impressive like-for-like net property income growth of 6.1%.
The company's internalised leasing team is building closer relationships with retailers and actively engaging second-tier nationals. It introduced 92 new brands to the portfolio in the six months under review, thereby enhancing the overall customer experience through expanded choice.
By providing profitable trading space for retailers, like-for-like trading densities increased 3.5% in the portfolio, well ahead of national averages, and with the Vukile team's asset management interventions making a significant contribution, trading density growth improved by nearly 5%. It lowered its rent-to-sales ratio to 5.9%, which supports the ability to attract the best retail tenants for its shopping centres.
Vukile's R516-million acquisition of Mdantsane Mall in the Eastern Cape, which transferred in November, extends its geographical footprint and its foothold in South Africa's high-density township retail market with another dominant asset.
The company reaffirmed its guidance to grow its dividend by between 3% and 5% in the 2020 financial year, ending March 31 next year.
GETTING TO KNOW YOU
Vukile is continuously investing to become more customer-centric. Rapp explained that managing retail assets as a specialist business entailed understanding customers.
The company is piloting a data accumulation system whereby customer information is collected once they opt in to use the WiFi in shopping centres. The company had installed fibre in 35 of its malls in the period under review.
A pilot of this information gathering exercise started lost month, which had already seen 88 000 shoppers connected on the WiFi portal to date.
The company intends to add more value to customers' shopping experience, while this information will also help to retain tenants.