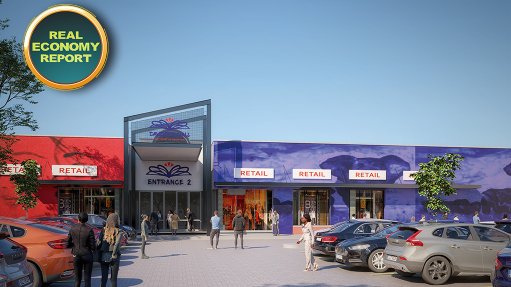 From Creamer Media in Johannesburg, this is the Real Economy Report.
Sashnee Moodley:
JSE-listed real estate investment trust Vukile Property Fund will invest R90-million on upgrades at its Daveyton Mall, in Ekurhuleni, Gauteng, including a new food court. Marleny Arnoldi attended the construction launch.
Marleny Arnoldi:
Vukile's upgrade to Daveyton Mall will involve a 2 000 m2 expansion of gross leasable area, a glossy modern aesthetic and spaces to showcase the work of local artists.
A brand new dining area will introduce sit-down dining with inside and outside seating areas, while more natural light and new tiling will be added to bathrooms and shop fronts.
The company is also introducing free Wi-Fi for its shoppers and standby generator power to its common areas during electricity outages.
Vukile CEO Laurance Rapp shares more insight about the mall's modernisation.
Vukile Property Find CEO Laurence Rapp:
Marleny Arnoldi:
Construction of the upgrades started near the end of March and is scheduled to be completed by December 10, but the mall is trading as usual during the construction process. Rapp tells us more about the project timeline and cost.
Vukile Property Find CEO Laurence Rapp:
Marleny Arnoldi:
Daveyton Mall is one of the first township malls developed in South Africa. It opened in 1993, while the township itself was established in 1955. With its ideal location and more than 60 shops focusing on the convenience for Daveyton residents, Rapp says the mall stands out as one of the best performing retail properties in the portfolio. He elaborates.
Vukile Property Find CEO Laurence Rapp:
Sashnee Moodley:
That's Creamer Media's Real Economy Report. Join us again next week for more news and insight into South Africa's real economy. Don't forget to listen to the audio version of our Engineering News daily email newsletter.