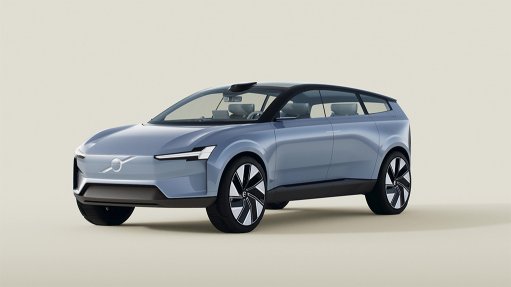 The concept Recharge electric vehicle
Volvo Cars says it aims to achieve 1 000 km of "real driving range" on a battery electric vehicle (EV) later this decade.
As the Swedish car maker rapidly moves towards becoming a fully electric car company, the company says it aims to tailor its future batteries to the needs of its customers, providing them with longer range and faster charging times.
It aims to do so by improving lithium-ion battery technology on its forthcoming second generation of electric cars, starting with the company's first sports-utility vehicle (SUV) on a completely new electric-only technology base.
By the middle of the decade, as Volvo Cars introduces its third generation of electric cars, it aims to improve the range further and integrate the battery pack into the floor of the car, using the cell structure for overall vehicle stiffness and improving efficiency.
In the near term, Volvo Cars says it plans to work with Swedish battery company Northvolt to further increase the energy density in its battery cells by up to 50% compared to what is on the market today.
And then, later this decade, Volvo Cars aims to break the magical 1 000 km of real driving range.
Volvo Cars adds that current charging times are expected to be cut almost in half by mid-decade, thanks to better battery technology and continuous improvements to software and fast-charging technology.
"We want to constantly increase the customer benefits of driving a pure electric Volvo car," says chief technology officer Henrik Green.
"By simplifying the design and integration of our battery cells, we can reduce weight and maximise space, allowing for considerable improvements in battery capacity, range and charging times."
As Volvo Cars is moving towards becoming an electric only car company by 2030, the importance of sustainability increases in parallel, he adds.
While the company will increase the battery energy in its cars over the coming decade, it will also work to continuously reduce its carbon impact.
An aim of Volvo Cars' planned collaboration with Northvolt is to produce battery cells using 100% renewable energy, while the car maker is working with other battery suppliers to do the same by 2025.
Also, wherever possible, Volvo Cars intends to remanufacture or reuse batteries, and is also investigating potential second-life applications, such as energy storage.