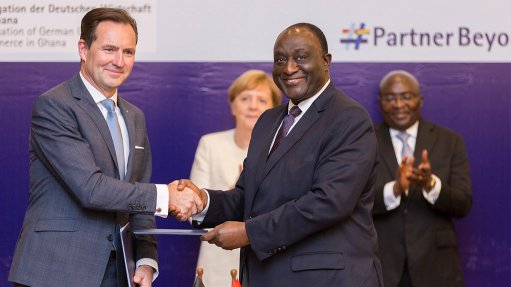 Thomas Schaefer and Alan Kyerenmaten, with Angela Merkel and Ghana VP Mahamudu Bawumia looking on.
Volkswagen has added Ghana and Nigeria to its list of future vehicle assembly operations in Africa.
The German manufacturer is already active on assembly sites in Kenya, Algeria and Rwanda.
Volkswagen last week signed a memorandum of understanding (MoU) to develop a joint vision for establishing an automotive hub in Nigeria. Volkswagen sub-Sahara region head Thomas Schaefer signed the agreement with Nigeria's Minister of Industry, Trade and Investment, Dr Okey Enelamah.
The ceremony in Nigeria came a day after the signing of an MoU in Ghana, whereby Volkswagen committed to set up a vehicle assembly site and to conduct a detailed feasibility study for the development of an integrated mobility solution in this country.
The signing ceremonies coincided with the visit of the Chancellor of Germany, Angela Merkel, to Nigeria and Ghana.
Schaefer is also the MD of Volkswagen Group South Africa. The Rwanda and Kenya plants are, for some models, supplied with kits from the South African plant, located in the Eastern Cape.
Nigeria
In the MoU with Nigeria, Volkswagen undertakes to implement a phased assembly approach, starting with assembly kits, with the long-term view of establishing Nigeria as an automotive hub on the West coast of Africa.
This ramp-up will include the establishment of an automotive training academy, in conjunction with the German government.
The intent is to develop a comprehensive Volkswagen vehicle and service network, subject to commercial viability.
In turn, the Nigerian government undertakes to accelerate the approval of the Nigerian Automotive Policy, currently under consideration.
This policy includes the gradual transition from the importation of used cars to the manufacture and distribution of new passenger vehicles.
"The MoU is a major step in our walk towards the development of the automotive industry," commented Enelamah.
"We believe in the strategic and catalytic role of the automotive industry in the diversification of the Nigerian economy. Our overall objective is to restore assembly and develop local content, thereby creating employment, acquiring technology and reducing pressure on the country's balance of payment."
"This week Volkswagen has been able to demonstrate with conviction that it is serious about its intentions in sub-Saharan Africa," added Schaefer.
"We are well placed to become a dominant player in Africa, as the continent continues to stabilise and develop economically."
Under its Transform 2025+ brand strategy, Volkswagen is strengthening its regions and focusing on new up-and-coming markets. It believes that although the African automotive market remains comparatively small, the region could develop into an automotive growth market of the future.
"We are only starting with our initiatives in Africa and will continue to develop sales and service networks where applicable. We are also looking at future assembly locations to determine if the markets have the potential to accommodate vehicle assembly," noted Schaefer.
As a next step, exploratory talks are being held with the government of Ethiopia.
Ghana
In Ghana, Schaefer signed a MoU with Ghanian Minister of Trade and Industry Alan Kyerenmaten to establish a vehicle assembly facility and to assess the feasibility of rolling out a mobility concept for Ghana.
The agreement will include developing a fully fledged sales and service network in Ghana, as well as setting up a production and after-sales training academy.
Volkswagen also undertook to do a feasibility study for launching an integrated mobility solution in Ghana, which will include a review of the commercial viability of introducing car sharing, ride hailing and shuttle services by way of a Ghanaian subsidiary of VWSA, or the appointment of a local service provider.
In turn, the Ghanaian government undertook to develop a comprehensive automotive industry policy, which will incentivise and facilitate vehicle manufacturing and assembly in Ghana.
This includes a preferential procurement policy for locally assembled vehicles.
"We are impressed with the determination and desire of the Ghanaian government to develop a motor industry," said Schaefer.
"As the second biggest economy in West Africa, Ghana is the ideal next building block in our Sub-Saharan Africa development strategy.

"The first locally assembled vehicles are planned to be on the streets in Accra in early 2019."
"Ghana is committed to developing a modern automotive and vehicle assembly industry as one of the new strategic anchor industries that is part of our industrial transformation agenda," added Ghana President Nana Akufo-Addo.
"I assure Volkswagen and its local assembler in Ghana of the full support of government in creating an enabling environment and incentive framework to make their investment a major success."
Volkswagen has been in Ghana for the past 20 years, with Universal Motors Limited operating as its licensed importer since 2005.