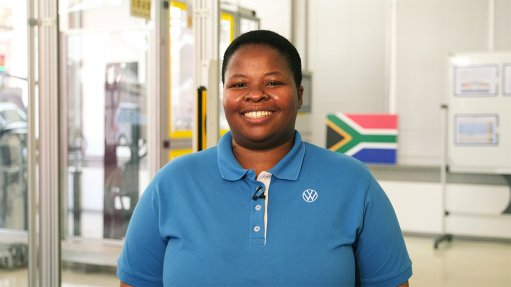 Zintle Mvana
Volkswagen Group South Africa (VWSA) employee Zintle Mvana has been named one of the best apprentices in the global Volkswagen Group.
This is an honour bestowed each year to only a handful of the German car maker's top young talent across the world.
In 2021, this group consisted of 50 apprentices from 19 countries.
Owing to the Covid-19 pandemic, these awards – normally presented during a ceremony in Wolfsburg, Germany – were handed out individually in the apprentices' home countries.
Mvana, 26, has been with the company since February, 2020, when she started as a graduate trainee while studying towards an Honours degree in industrial and organisational psychology.
She is currently employed as a training and development practitioner in VWSA's Learning Academy.
"This award means the world to me; it means that my efforts have been recognised," says Mvana.
"I always strive to perform at my highest level in whatever I do, so that is how I learn best – by giving it my all. This award means that my contribution to my department and to VWSA is valued."
"We are proud to have Zintle represent us in the Volkswagen Group and proud of her achievements; this is a well-deserved accolade," says VWSA chairperson and MD Dr Robert Cisek.
"VWSA prides itself on identifying and developing young talent through our trainee programmes, and Zintle is a strong example of the success of these programmes, and the importance of investing in people."