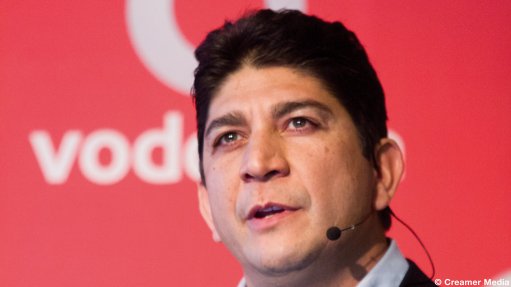 Photo by: Creamer Media
JSE-listed Vodacom's international operations have once again outperformed the South African operations during the quarter ended June 30.
The telecommunications giant on Thursday posted strong international service revenue growth of 19.6% to R5.1-billion for the three months under review, supported by continued success in M-Pesa and data demand.
M-Pesa revenue increased by 42.7% to R905-million and now represents 17.7% of the international service revenue.
The South African operations, impacted on by new data use regulations, a transition between national roaming partners, significant data price cuts and a subdued economy weighing on consumer spend, reported a 1.2% contraction in service revenue to R12.6-billion.
"Growth from our international portfolio offset the anticipated slower performance in South Africa," Vodacom CEO Shameel Joosub said in a quarterly update to shareholders.
However, key quarterly highlights in South Africa included accelerated growth in data traffic of 52% and the 45% jump in revenue from the financial services business.
Overall, group revenue increased by 4.2% to R21.5-billion and service revenue was up 3.9% to R17.4-billion in the quarter to June.
"Excluding Safaricom, we added 1.2-million customers in the three-month period, serving 79-million customers across the group, having added 2.4-million customers in total to the Vodacom network over the past year," he adds.
In South Africa, 608 000 customers were added during the quarter, while the international operations added 560 000 customers.
Vodacom's group data customers increased to 38.9-million an expansion of 1.3-million in the quarter.
"We expect growth in the second half of the year to improve in South Africa, benefitting from the completion of the national roaming partner switch-over and improved commercial momentum in financial services," Joosub said.
Vodacom expects to conclude the acquisition of the M-Pesa brand and platform and, together with the recent launch of VodaPay, further enhance the performance of its financial services business.
"We are also encouraged by the growth potential from the IoT.nxt acquisition and AWS partnership agreement announced earlier this year," he concluded.