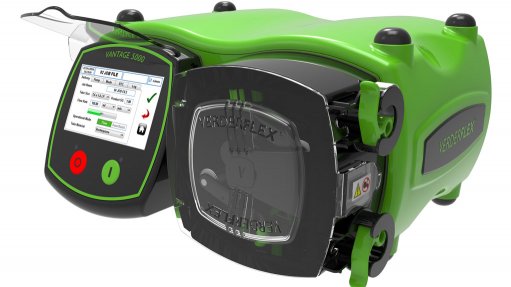 MODBUS UPGRADE The Verderflex Vantage 5 000 peristaltic pump has recently improved, integrating a Modbus RTU that allows for increased communication and control
Pumps products and services provider Verder Liquids, part of Verder Group, has released a new remote terminal unit (RTU) version of its Verderflex Vantage 5000 peristaltic pump.
The RTU offers easier system integration and real-time communication to form a sophisticated, remotely operated pumping network.
The RTU, known as the Modbus, is a simple, stable, open data communications protocol used globally. It has over seven-million active nodes or connection points currently in use in North America and Europe. It allows a single master controller, such as a programmable logic controller, to work effortlessly with multiple, uniquely addressed Verderflex Vantage 5000 pumps in digitally controlled, high-resolution dosing or metering systems.
The benefits of the Verderflex Vantage 5000 Modbus-enabled pump include the RTU protocol for easy system integration and data communications, a colour screen for fast pump programming, network configuration and device address definition, and a USB pump backup port, which allows one pump to set up and validate systems and copy this information to other pumps. This saves significantly on pump configuration time.
Possible with the Vantage 5000 are remote commands such as start, stop, increasing or decreasing pump flow or speed, and changing pumping direction; remote readouts of pump parameters, including pump run time, calibration date and job counter; and remote monitoring of the status of the pump's own sensors, including the tube burst and open front cover alarms, as well as analogue inputs, such as supply or feed tank level sensors.
The Vantage 5000 range has been described by Verder as "the next generation in cased-drive tube pumps, combining precision dosing and dispensing accuracy with high discharge pressures, an intuitive touchscreen user interface, and a USB data backup port."
Engineering News reported in September last year on the launch of the Verderflex Vantage 5000, at Electra Mining Africa. The event, held at the Nasrec expo centre in Johannesburg from September 12 to 16 September, provided the ideal platform for the company to explain the innovative aspects of the pump.
Verder marketing manager Elaine van der Westhuizen explained at the event that the Vantage 5000 is a next-generation peristaltic pump system, with touchscreen technology and an intuitive operating system. She emphasises: "We are not selling a product . . . we are selling a solution to improve the overall business process."