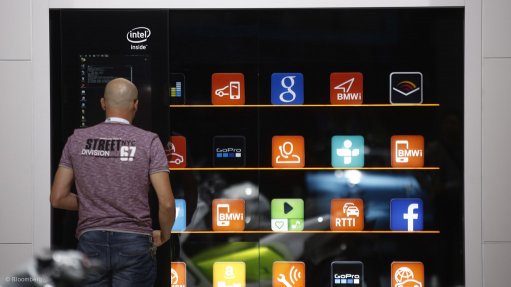 INTERACTIVE DRIVING The BMW Group showcased the BMW ConnectedDrive features at 2011 Paris Motor Show
Photo by: Bloomberg
Technological developments relating to high-speed connectivity, smart sensors and cloud-based computing, present vehicle manufacturers with an opportunity to develop services based around connected cars and devices. This has provided new impetus to the 'connected life' concept, says computer consultancy T-Systems South Africa.
T-Systems automotive strategy and development head Michael Frans envisions the smartphone, connected car and the connected home operating in a symbiotic trinity – "the nexus of what we'll soon start calling 'the connected life'."
He explains that the 'connected life', refers to Internet-enabled electronic devices that can send and receive data, enabling users to remotely access various devices so as to attain information and effect a convenient or desirable outcome. For example, a person could use their smartphone to control aspects of their connected home from their car, while sitting in traffic. This control could extend to effecting heating, air conditioning, security alarms, lighting, sprinkler systems, or recording a TV programme.
"Automotive manufacturers are particularly well-poised to benefit from this, as most of us use our cars on a daily basis – many people spend hours in their cars. This daily touchpoint positions vehicle makers at the centre of the connected life revolution," he comments.

Frans points out that vehicle manufacturers have already introduced technology-augmented services – such as cruise control, self-parking, collision warnings, infotainment and self-driving capabilities. He adds that vehicle manufacturers can now focus on developing connected services, owing to the global drive toward increased connectivity and digitisation.
He cites luxury vehicle company BMW, noting that, "BMW ConnectedDrive uses a Deutsche Telekom SIM card embedded in the vehicle chassis to connect the car to BMW Group. This allows data and information to flow in both directions."
Further, it allows companies like T-Systems – a division of the Deutsche Telekom conglomerate – to offer over-the-top (OTT) services in partnership with content providers. OTT services refer to services and applications (apps) offered by nontelecom- munications companies that tap into a mobile network provider's (MNP) virtual private network. OTT services include messenger service WhatsApp and social media platform Facebook, which use the MNP's network to transmit data.
Frans says one example of an OTT service offered by T-Systems to BMW Group is MyKidio. "This service allows for content on demand to be broadcast to selected screens in the vehicle," he states.

There are T-Systems customers that connect vehicles without SIM card infrastructure. In those cases, the company makes use of on-board diagnostic system connections to link cars to original-equipment manufacturers (OEMs). This allows OEMs to package connected service offerings – using mobile apps – to their customers.
Frans points out that, although using an app will cause in-car distraction, each of T-Systems' OEM customers determine the level of distraction that can be allowed for drivers, and the company ensures that it enforces the restrictions and policies that each OEM provides.
He affirms that connected cars offer other opportunities as well. Firstly, the vehicles could relay information to and from city or municipal institutions, such as law enforcement, traffic authorities or public utilities. A vehicle could automatically transmit information back and forth between it and traffic authorities, in order to warn the driver of any accidents or delays, and automatically reroute to the fastest route.
This relies heavily on the concept and realisation of 'Smart Cities' – an urban development concept that envisions the use of sensors and information and communications technology to transmit data to manage public assets.
Frans notes that, while live traffic feeds are already available – with delays tracked by the GPS companies that subsequently display delays to drivers – connecting cars to each other and the environment will become more important as society progresses towards autonomous driving. "It is very important that an autonomous vehicle can feed information to other vehicles and the Smart City. For this to become a reality, it is important that cities provide the ability for vehicles to interact so that the information is accurate and reliable."
He says that T-Systems is already working with European cities to test technology that allows the vehicle manufacturers to implement autonomous parking, but adds that the company needs to work with the cities to identify parking spaces. This further demonstrates how collaboration between government and the private sector is necessary to improving technology and driving development.
Additionally, the connected car could enhance the online shopping experience. A customer could order groceries and other items from their mobile. The retailer could then deliver the items to the customer's vehicle, using a passcode on a mobile app to unlock the boot. Frans notes that this solves the biggest challenge of home delivery, namely that people are rarely at home during the weekday to receive deliveries.
He stresses that, "by forming new relationships with players outside the automotive sector, vehicle manufacturers can evolve their businesses in exciting new ways. By providing new services to enhance customer convenience, they can create new streams of annuity revenue and form lasting customer relationships".
Frans concludes that connecting phones, cars and homes to a bigger network of transport providers, city officials, retailers and shops, airports, schools and other service providers can bring hundreds of small improvements to our lives, and shave hours from our daily routines.