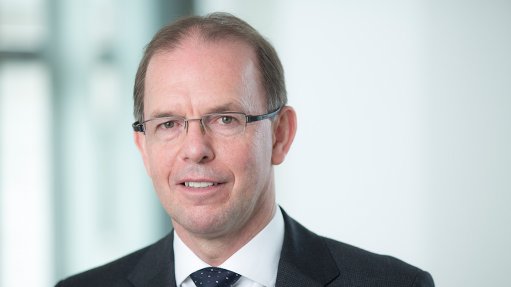 TREVOR RAYMOND The introduction of platinum and other PGMs as catalysts in emissions control systems effectively created a major new market
Platinum demand from the automotive sector is expected to be 25% up on 2020, reaching almost three-million ounces this year, World Platinum Investment Council (WPIC) research director Trevor Raymond says, partly attributing the projected increase to the Euro 6d and China 6a emissions regulations coming into force and being applicable to all vehicles sold in Europe and China respectively.
This stands to affect some 31-million passenger and light commercial vehicles this year alone, with both standards being much more stringent than their predecessors.
Raymond explains to Engineering News & Mining Weekly that, since the first platinum- containing autocatalysts were introduced in the 1970s to reduce harmful vehicle emissions, global emissions standards have tightened and continue to do so.
"The introduction of platinum and other platinum-group metals (PGMs) as catalysts in emissions control systems effectively created a major new market, significantly increasing automotive demand for PGMs, which to this day remains the single-largest demand driver for platinum."
The almost three-million-ounce 2021 demand forecast will be 3% higher than prepandemic levels, with the WPIC forecasting in May that, based on the expected 16% increase in light vehicle production over the pandemic-reduced level in 2020, platinum demand from the automotive sector will increase by 25%, compared with 2020.
Raymond expounds that automotive demand for platinum is up primarily because vehicle sales are much higher than in 2020, with the 16% increase reflecting the recovery in vehicle production and sales from the negative impacts of the Covid-19 pandemic.
Vehicle production and sales have not recovered to prepandemic levels, yet platinum automotive demand for 2021 is forecast to be above the 2019 level. This, Raymond notes, is due to three factors, namely the increased platinum used per car to achieve the new, lower emissions limits that mainly apply to passenger diesel vehicles in Europe and heavy-duty vehicles in China; increased sales of diesel mild-hybrid and plug-in mild-hybrid vehicles in Europe, as automakers increase sales of low carbon dioxide- (CO2-) emitting vehicles to reduce potential fleet CO2 emissions fines; and platinum substitution for palladium in petrol autocatalysts, at a 1:1 ratio, driven, since 2018, by the massive price premium of palladium over platinum.
The current forecast for the automotive sector's platinum demand in 2021 is based on global light-duty vehicle production of 86.5-million units, which is some 1.1-million units lower than the projections announced in March, owing to a global shortage of semiconductor vehicle components.
Raymond believes that the shortage is likely to last longer than initially anticipated, but that it will have a much-reduced impact on platinum than on palladium, as far more petrol cars, with predominantly palladium catalysts, are produced globally.
Details of the heavy-duty market, meanwhile, are not as widely available publicly, but estimates are for about four-million units, depending on whether the strong sales seen in China in 2020, driven by government-led incentives, will be repeated in 2021.
The new, lower emissions requirements are unlikely to have an influence on the production and sales of light-duty or heavy-duty vehicles, as the implementation dates were well known ahead of the pandemic and implementation started in 2019, Raymond says.
However, key to the forecast strong demand recovery is the impact of tightening emissions legislation, especially in Europe and China, which the WPIC says "is driving higher platinum loadings across both light- and heavy-duty vehicles".
Raymond explains that this is due to the nature of the emissions limits that are now applicable in Europe and China.
In Europe, on-road testing of oxides of nitrogen (NOx) emissions is now mandatory and to achieve this, higher loadings of PGMs per vehicle are required. Many new Euro 6 diesel vehicles continued to emit over 800 mg/km of NOx on the road until September 2019.
"The extreme technical challenge of reducing on-road NOx levels from over 800 mg/km to the around 20 mg/km achieved suggests strongly that, materially, [more] platinum per vehicle is being used," he notes.
In China, historically, emissions levels typically lagged those of Europe and the US, with average loadings per vehicle in China much lower. However, Raymond points out that the China 6 emission limits are more stringent than the limits currently in place in Europe and North America, making the increase in PGMs per car dramatic – as much as over 40% in most cases.
Lower Emissions Requirement
Underpinning the 2021 forecast for increased platinum demand from the automotive sector is the implementation of the China VI standards, applicable to heavy-duty vehicles, says the WPIC, noting that British multinational speciality chemicals and sustainable technologies company Johnson Matthey expects PGM loadings on trucks that meet China VI requirements to be about three times higher than loadings for China V, with platinum accounting for most of this increase.
The China VI standards (for heavy-duty vehicles) came into effect on July 1, 2021. However, Raymond points out that China has "a long history" of introducing vehicles that comply with the lower emissions standards ahead of the mandatory implementation date on a voluntary basis.
This particular implementation was delayed from January 2021, as regulators wanted to provide some respite, in view of the pandemic-related interruptions.
However, Raymond says that most truck makers had already introduced new emissions control ahead of January to meet China VI.
"The increase in platinum use will be as a result of all heavy-duty vehicles complying either for the full year in 2021 or at least for six months," he comments.
China 6 for light-duty vehicles, for example, has two levels: China 6a and China 6b, with the latter more stringent and including on-road testing and with a later implementation date.
Several automakers in China chose to comply with China 6b ahead of the 6a implementation date to avoid having to address two limits in quick succession.
This year, however, much of the increase in platinum automotive demand will be as a result of the global recovery in vehicle production and sales following the negative impacts of the pandemic.
That aside, China's positive impact on platinum demand, from higher loadings on heavy-duty vehicles, combined with platinum substitution for palladium, is more significant than that from other markets, Raymond states.
China is the country that uses the most platinum in the world, with platinum recognised as a metal of strategic importance by the country's government. Along with lithium, nickel and cobalt, platinum is specifically mentioned in the China State Council's New Energy Vehicle Industrial Development Plan (2021–2035), which encourages Chinese companies to improve their capacity to secure long-term supplies of these rare and in-demand elements.
The importance of platinum and PGMs more generally to the Chinese economy was highlighted at the recent inaugural Shanghai Platinum Week, held from May 31 to June 4, which saw much interest from across the automotive value chain and beyond.
The event, which builds on the structure of London Platinum Week, was held against the backdrop of the worldwide economic turmoil caused by the Covid-19 pandemic.
Substitution Growing Demand?
Meanwhile, in addition to rising PGM loadings, a further dynamic is boosting automotive platinum demand growth — platinum substitution for palladium.
The WPIC explains that platinum is increasingly being used as a substitute for the more expensive palladium in petrol engine emissions control systems, owing to the price differential between the two metals, bearing in mind that one gram of platinum provides almost the same catalytic effect as one gram of palladium.
Ever more stringent regulation is also playing a major part and, since January, all light-duty petrol vehicles sold in Europe and China have been required to meet new, lower emissions limits.
Raymond explains that, in general, policymakers and regulators are responsible for ensuring that air quality is the best possible for their citizens, which has led to lower limits over time as technology has improved to achieve lower emissions.
Platinum and PGMs have been at the core of achieving this, he notes, which includes converting carbon monoxide into CO2, reducing unburned hydrocarbons, and reducing NOx.
"Legislation in support of addressing climate change in relation to vehicle emissions aims to reduce the amount of CO2 emitted. Here, the diesel engine still achieves lower CO2 emissions, owing to its superior fuel efficiency," he tells Engineering News & Mining Weekly, noting that, in particular, the mild-hybrid diesel vehicle emits 30% less CO2 than a conventional petrol engine vehicle.
He adds that "it appears unlikely" that transport will be able to move from internal combustion engines (ICEs) to 100% electric within the next 10 or 15 years, and that the likely compromise will be that regulators include petrol and diesel hybrid vehicles as the transition occurs – which bodes well for platinum demand as a more cost-effective substitute for palladium.
This will ensure that the ICE 'tail' is the most CO2-efficient possible, Raymond says.
Moreover, the combined impact of Euro 6d and China 6 regulations has led to significantly higher palladium loadings on the petrol vehicles produced in these regions, and these higher loading requirements are exacerbating shortages in the palladium market, which, in 2020, experienced its ninth consecutive deficit.
According to the WPIC, this, in turn, led to the price of palladium significantly overshooting the price of platinum and increasing the financial incentive to substitute, with the peak platinum-to-palladium discount of $1 060/oz in 2019 ballooning to $1 903/oz in 2020.
"As a result, platinum-for-palladium substitution has been accelerated further, although substitution on existing vehicle models can be a slow, less economically attractive process," the WPIC comments.
Some industry participants now project that, by 2025, as much as 1.5-million ounces of additional platinum will be used yearly to replace palladium in car and van models whereby first release predates the requirement to meet new emissions legislation, most likely in the North American market.