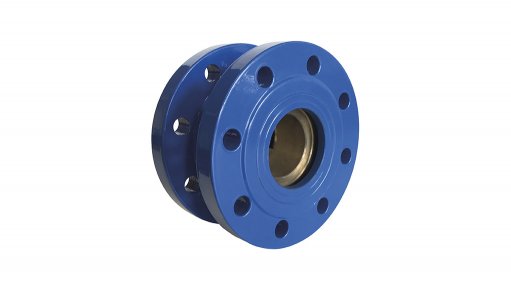 PROVING POPULAR More consulting engineers are specifying the use of ratio reducing pressure reducing valves
Gauteng-based valves, supplier Ultra Control Valves (UCV) has expanded its offering for slurry and abrasive applications with the introduction of the Titan metal-seated ball valve from Durban-based valve manufacturer Natal Pipe & Valve (NPV).
"We now have a complete range of slurry valves, which also include knife-gate, pinch and diaphragm valves," says UCV managing member Peter Telle.
He says Titan has been used at petrochemicals refineries for the most difficult slurry applications and is new to the mining market.
Although UCV intends to market the valve to mining companies in the iron-ore, copper and diamond sectors, as well as target operations in the mining town of Steelport, in Limpopo, where chrome and platinum is predominantly mined, it is "definitely looking to supply the valve beyond South Africa's borders".
NPV has about ten years' experience in the manufacturing the US-designed metal-seated ball valve.
The companies entered into a partnership in August, whereby UCV became the sole agent for the valve, says Telle.
He tells Engineering News that UCV is in discussions to supply three large projects, one of which is an iron-ore mine in the Northern Cape, with the tungsten carbide metal-seated valve.
The other projects include the Natref inland refinery, in Sasolburg, a joint venture between petrochemicals companies Total and Sasol, and another local petrochemicals refinery, which is interested in duplicating a previous order as it "refuses to use any other valve for that particular application", explains Telle.
"It's not just the material it is made from, but the whole design of the valve that makes it unique. Material cannot get behind the seat to prevent the valve from closing properly. As the seat is built into the valve, nothing can get behind it."
Telle adds that the cost of ownership is "extremely good", with Titan valves installed at refineries lasting forty times longer than most other valves.
Water Focus
Another valve supplied by UCV which has found application in the mining industry is the Ultra ACV ratio reducing pressure reducing valve (RRPRV).
"It is mainly used by underground platinum, gold and diamond mines to reduce the pressure of service water, drinking water and refrigeration water for ventilation systems, as well as for water conservation, as water waste is a big problem at mines," says Telle.
Pressure management has for many years been considered a fast way of reducing losses stemming from leaks and excessive consumption in distribution lines, and offers the quickest return on investment.
More consulting engineers are specifying the use of RRPRVs, with demand stemming mostly from KwaZulu-Natal – where the company will supply valves to replace hundreds of break pressure tanks used in municipal distribution networks – and Swaziland, owing to the hilly terrain, notes Telle.
"The ratio valves are becoming more well known and we are certainly selling a lot more."
The Australian-designed valve is a relatively new concept for the South African water industry, says Telle.
Owing to its simple design, the valve is suited to the South African market, compared with complex, electronic pilot-operated pressure relief valves (POPRVs). It is also tamperproof, theft proof, relatively maintenance free and offers stable control, with no delayed reaction time and can handle significantly low flow rates, he explains.
Ultra ACV RRPRV valves are available in 50 mm to 300 mm and up to 100 bar. The company expects to start manufacturing these valves locally by the middle of next year to take advantage of the Preferential Procurement Policy Framework Act's 70% local-content requirement for valves procured for government projects.
Telle says subcontractors will be used to manufacture these valves.
The company manufactures two sizes of POPRVs locally, with a Vereeniging-based foundry manufacturing the castings and a Germiston-based machining factory producing the internals. UCV handles assembly and testing at its Edenvale premises.
Also on offer are the Maric flow control and ARI air valves, which are both manufactured locally.
Telle describes UCV, established in 2009, as a high-tech company whose core business is control and specialty valves and has amassed substantial knowledge on water applications.
Subsequently, the company has gained a lot of experience with water hammer over the years and was asked by the South African Institution of Civil Engineering to start hosting a water hammer course this year.
"Water hammer is a science that not too many people know about, besides experienced consulting engineers that deal with it daily. We offer practical experience in the type of valves and surge tanks that should be used, among other aspects," Telle explains.
The first course was hosted in Centurion in September, and will be presented across South Africa in main cities next year. The course earns attendants one continuous professional development point.