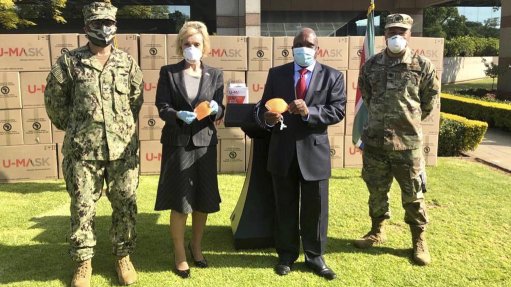 The US government, through the US Department of Defense's Defense Threat Reduction Agency's Biological Threat Reduction Programme (BTRP), has procured and started distributing 729 000 protective masks to South Africa's Department of Health (DoH) to help curb the spread of Covid-19.
The masks, which were locally sourced, are approved by the European Union and are the equivalent of the N95 respirator mask used in the US.
The DoH plans to distribute the masks to health workers on front lines in all nine of South Africa's provinces.
US Ambassador Lana Marks says that, in addition to its significant financial and technical assistance, the US's donation will help to keep essential health workers safe as they work to respond to the Covid-19 pandemic in South Africa. "Our ongoing partnership with South Africa is ensuring the fight against Covid-19 is swift and effective."
US Embassy personnel delivered the first consignment of 26 000 masks to the DoH headquarters in Pretoria on May 15. Each subsequent consignment will be delivered to the DoH weekly until all 729 000 masks are provided.
In addition to this donation of locally sourced personal protective equipment, the BTRP has been working with the South African government since 2010 to enhance disease detection, laboratory-based diagnostics and disease outbreak investigation capacity, which has strengthened South Africa's position as a regional leader in biosecurity, biosafety and diagnostic training for the Southern African Development Community.
To date, the US Centers for Disease Control and Prevention has committed $13.2-million in funding, along with $8.4-million in assistance through the US Agency for International Development. This brings the total US government commitment to South Africa's Covid-19 response to over $21.5-million.
Further, through the US President's Emergency Plan for AIDS Relief, the US is supporting up to 5 400 community healthcare workers to assist with the South African government's community Covid-19 screening campaign and provide HIV treatment support on the front lines.