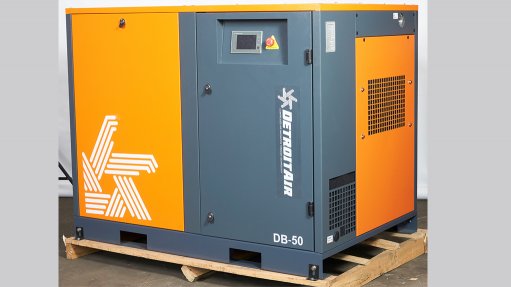 QUALITY ENSURED Detroit Compressors provide customers with a five-year warranty on the drive train of a rotary screw compressor and a two-year warranty on the complete unit
Tru Compressor Solutions is an authorised distributor of compressor manufacturer Detroit Air Compressors. Detroit has upgraded its DT, DB, and Gen2-DB range of screw compressors to enhance their stability, especially in very harsh environments.
Tru Compressor Solutions sales director Phillip Botha explains that the Gen2 model is built to work in the harsh African environment and that the upgrades to the range will increase the bearing life on the motor, the air-end, and the cooling fan.
The upgrades include WiFi as standard on DT, DB and Gen2-DB; an Android application to connect the user of the compressor to his/her cellphone; a touch-screen for easy intuitive operation; real-time power consumption data that allows for calculating the running cost; a programmable logic controller (PLC) that is focused on making machine operation simple, using time and pressure scheduling.
Other upgrades include efficient variable-speed drive (VSD) control, real-time monitoring, and troubleshooting.
The VSD allows for precise real-time control of airflow and pressure, ensuring that the pressure and volume of air required at a specific time are met. The machine will not let out air pressure that is not needed, which will be achieved by precise control of the motor speed and air intake. This, in turn, means that savings of up to 50% can be achieved, depending on the variance requirements.
"Basically, the whole system has been designed to allow for efficient operation and cost savings for all our customers," says Botha.
He adds that the upgrades were made as a statement of capability for the brand and to enable the company to compete with global brands on quality and efficiency.
The aftercoolers have also been upgraded and are suitable for stable machine operation and cooling in up to 55 ºC.
"We already have many high-hour machines in the field, with more than 70 000 hours of running time recorded without having to do a major overhaul. "Many of our machines reach these hours simply because servicing costs are so low; therefore, people tend to actually service at manufacturer recommended service intervals."
Botha points out that, for safety purposes, the PLC alarms when the model is due or overdue for a service. The PLC also allows for functions such as auto restart, scheduled on and off switching, the easy setting of user parameters and modification of factory parameters. This gives the user control over virtually every aspect of the machine's operation, he adds.
The upgrades will further result in compressors being monitored for services and problems; fixing electrical fluctuations, voltage and temperature settings; monitoring machines in real-time; shutting the machine on and off when needed; and saving time on small issues that can be solved over the App.
Compared with global brands, those of Tru Compressor Solutions excel in terms of affordable pricing: "In many cases, we can offer the same specification machine at a 40% price reduction," states Botha.
Additionally, the company carries stock of machines and parts in large quantities, providing it with an advantage over competitors in terms of service delivery and price competitiveness, he notes.
"We hold more stock of machines than any other importer of screw compressors in Southern Africa. "We have invested heavily in our product quality and stock holding – that is why we are fast becoming the brand of choice in compressed air."
Meanwhile, Botha notes that DetroitAir screw compressors are gaining traction in the marketplace and are selling at a rapid rate.
Detroit Compressors provide customers with a five-year warranty on the drive train of a rotary screw compressor and a two-year warranty on the complete unit, which includes the air-end and motor, pressure and temperature sensors, PLC, fan, after-cooler and VSD drives, says Botha.
Further, screw compressors are used in every sector of the economy, with the company's machines used in sectors such as automotive parts manufacturing, pharmaceuticals, food production and processing, diamond processing, mining, petrochemicals, agriculture and farming, he adds.
Tru Compressor Solutions does not cater to a specific industry but is rather customer-focused. The compressors are designed to provide the market with a better choice than what the big brands offer, Botha concludes.