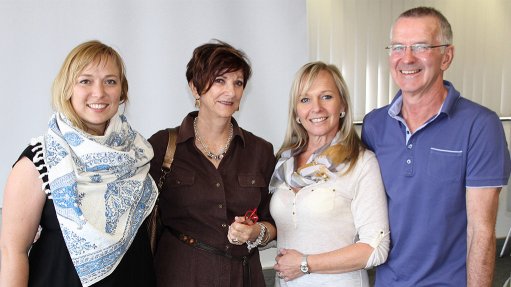 Company Announcement - The latest trends in design, production and sustainability in flooring were conveyed to students of the Greenside Design Center by KBAC Flooring recently. Lesley Fidrmuc and Hannetjie Smit, both consultants at KBAC's offices in Johannesburg, made the presentation to a group of 30 Greenside Design Center students, of whom most were close to completing their degree studies in Interior Design at the popular Johannersburg school. Aspects covered in the presentation included flooring for specialised applications such as offices, restaurants, and retail facilities; as well as technical information about flooring in general.
Design Center lecturers, Mike Hyam and Elzabé Meiring, afterwards said the presentation ha d completely changed the mindset of many of the students. "Some of the students initially felt that carpets and flooring were among the more boring elements of interior design. But after this presentation, they completely changed their outlook. They can now see what an important design component flooring can be - and we could see their newfound enthusiasm about making the most of walking surfaces in their designs," Hyam stated.
" We feel the technical information on flooring provided by the KBAC duo will stand the students in good stead when they enter practice. Developers and property-owners now regard sustainable flooring as an important factor to comply with the Green Building Council of SA's Green Star Ratings which add status to new developments in the green age we are living in, and KBAC Flooring is at the forefront of eco-friendly flooring," he added. Meiring added: "KBAC Flooring locally distributes some of the world's leading sustainable flooring manufacturers' produc ts so the company could inform the students about global trends, such as the shift towards eco-friendly raw materials, as well as biofuels to provide power for production lines. Greenside Design Center is placing increasing emphasis on sustainability in our curriculum so we welcomed the opportunity of having a leading flooring distributor on hand to bring students up to date on latest developments."
The lecturers said Greenside Design Center hoped that KBAC Flooring would be able to conduct similar presentations to students every year in future.