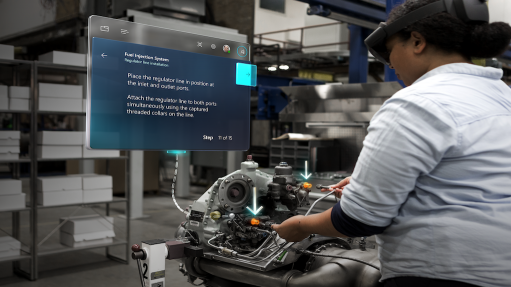 Johannes Kanis, Cloud and Enterprise Business Group Lead at Microsoft South Africa
Mixed reality continues to grow exponentially because of its ability to help businesses and their employees complete crucial tasks faster, safer, and more efficiently. It also creates new ways to connect to customers and partners by blending the physical and digital worlds so that they co-exist and interact in real time.
This augments the jobs of first-line employees in essential worker and growth-creating sectors, such as manufacturing, automotive, healthcare and education, and unlocks significant benefits for these businesses and industries.
Where value meets innovation
There is a mounting body of research that illustrates the business value and benefits of investing in mixed reality solutions such the Microsoft Cloud and HoloLens 2.
A Forrester Total Economic Impact Study found, for example, that the technology offered a 177 percent return on investment (ROI) over three years, improvements to employee health and safety, business continuity, customer experience and outcomes.
It also addresses specific industry challenges by enabling capabilities that help companies become more competitive and innovative – particularly in the manufacturing sector.
Making the online customer experience immersive
Italian luxury goods company Salvatore Ferragamo has, for instance, used the HoloLens 2 and the Azure cloud platform to transform its Tramezza Made-to-Order service to improve the online experience for customers. It makes choosing and customising the Tramezza men's footwear collection an immersive experience.
Customers can bring their footwear shopping experience to life when they browse the dedicated Azure cloud-based Made-to-Order Tramezza web application by viewing the footwear's digital twin on their screen and interacting with its accurate 3D rendering to customise materials, colours, details and finishes
The company has already seen significant benefits in various areas:
the optimisation of the customer journey in an omnichannel perspective,
the simplification of purchase methods,
better space management in physical stores,
a rise in conversion rates, and
better customer service overall.
Revolutionising remote collaboration and cutting costs
Cosmetics company L'Oréal has also unlocked the value of mixed reality in its business. Using Microsoft Dynamics 365 Remote Assist and HoloLens 2, it has modernised its procedures for the maintenance of its manufacturing equipment, enabled remote maintenance and reduced downtime, as well as improving worker productivity and accuracy. This is because employees can quickly learn complex tasks and collaborate regardless of their geographic location.
The HoloLens 2 and Dynamics 365 Remote Assist solutions simplify installation, servicing, troubleshooting and auditing, with help from remote experts allowing employees in one location to see what colleagues in another location are looking at in real time and to share information. This ultimately prevents costly delays caused by machine downtime.
The time the organisation spends on diagnostics and resolving issues has been cut in half as a result. The ability to share information and collaborate even when employees are physically in different locations has led to lower operational and travel costs as well as greater efficiency, agility and flexibility.
Cutting down on travel also came with an added benefit: contributing to the company's long-term commitment to environmental sustainability and minimising its carbon footprint.
Technology is increasingly one of the key ways that organisations in the manufacturing industry are addressing environmental responsibilities, and the introduction of mixed reality technologies such as the HoloLens 2 into factories has the unique ability to help create a positive environmental impact – while simultaneously helping drive business value.
Increasing speed and accuracy
Another company that has realised the business benefits of mixed reality is aerospace company Lockheed Martin, which experienced a 90 percent increase in efficiency after investing in their mixed reality solustion and HoloLens 2. The technology enabled more accurate, efficient building processes that have both reduced the cost and increased the speed with which it builds spaceships as part of NASA's Artemis programme aimed at returning humans to the moon.
Remote assistance and guided work instructions also meant that employees were able to work more effectively with fewer errors. In the past three years that the company has used HoloLens on the shop floor, there hasn't been one error.
These improvements filter into everyday tasks, like assembling and installing crew seats and building the heatshield skeleton. For each piece of manufacturing, the HoloLens gives a single scenario of design, quality assurance, inspection, and testing.
Unlocking the next wave of computing
Global use cases like this are part of an-ever growing pool of evidence to show that mixed reality has the ability to help solve for current and future business and industry challenges, including the skills gap, by enabling simulated on-the-job training, optimising operations, efficiencies, productivity and collaboration through real-time insights and visual guidance, and driving innovation to create business value.
As more companies and industries begin to adopt and deploy mixed reality technologies like the Microsoft Cloud and HoloLens 2, and see the tangible benefits and value it can create for them, we are going to see a new wave of innovation and even smarter ways to work, learn and communicate.
The next wave of computing has arrived.
Email hololens@tarsus.co.za for more information.