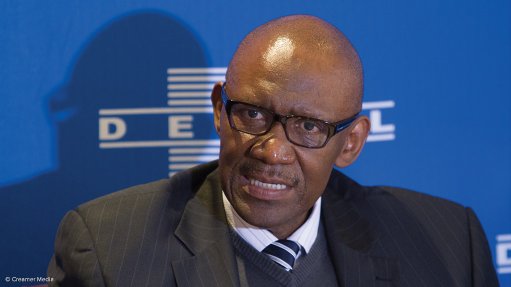 Zwelakhe Ntshepe
Photo by: Duane Daws/Creamer Media
The Solidarity trade union on Tuesday welcomed the resignation of Denel Group CEO Zwelakhe Ntshepe that same day. It also expressed its support for recently appointed board chairperson (Ms) Monhla Hlahla, complimenting her for the changes she has already made at the State-owned defence industrial group.
"This resignation follows constant pressure by the trade union against Ntshepe and other corrupt management in Denel," asserted Solidarity deputy general secretary Deon Reyneke. "Solidarity won't hesitate to uncover other corrupt persons in management positions. Corrupt persons in Denel won't be able to sleep peacefully at night any more."
The union had, since December, made various disclosures about wrongdoing at the group. In April, it published a dossier showing cases of financial mismanagement and revealing that a R1.2-million bursary had been awarded "unlawfully" to the son of North West Premier Supra Mahumapelo.
The union claimed that this dossier was "the final nail in Ntshepe's coffin". "In the report we also asked that Ntshepe be suspended pending an investigation," stated Reyneke.
Solidarity affirmed that Ntshepe's resignation was not the end of the matter. Reyneke called for a thorough forensic investigation and, if criminal wrongdoing was found, that appropriate action, including the pressing of criminal charges, should be taken.
"A resignation may not undo any further investigation and action," averred Reyneke. "The CEO doesn't act in isolation. We also ask that an investigation should determine who is further responsible for the chaos in Denel."