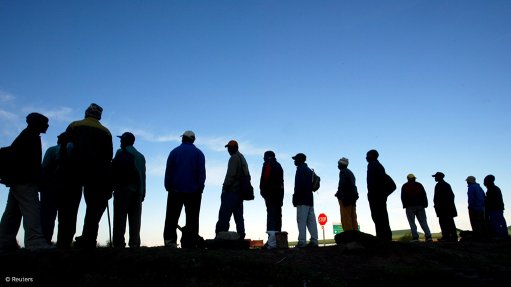 At a 2% yearly economic growth, the unemployment rate in South Africa will reach 50% in 50 years
Photo by: Reuters
South Africa's yearly economic growth will "moderate" to less than 2% for the foreseeable future, which is insufficient to curb rising unemployment, given the country's population growth rate, professional services company Alexander Forbes Investments executive chief economist Isaah Mhlanga said in a media briefing on February 15.
South Africa's official unemployment rate sits at just under 35%, but that number is much higher when those who have given up the search for employment are taken into account.
Mhlanga explained that the ideal scenario would be to achieve a stable 5% a year economic growth rate for the next 50 years, which would bring the unemployment rate to under 10%.
At a 4% yearly economic growth rate, the country's unemployment rate would drop to just over 20%.
A steady 3% yearly economic growth rate, however, would actually see unemployment continuing to rise by a few percentage points in 50 years.
At a 2% yearly economic growth, unemployment in South Africa can be expected to reach as high as 50% in that time.
According to World Bank data, South Africa's yearly gross domestic product (GDP) growth has been less than 4% since 2008 and has decreased consistently ever since, reaching a historic low of -6.4% in 2020. The highest South African GDP growth rate recorded by the World Bank was 7.94% in 1964.
Mhlanga noted that global economic growth year-on-year at the end of January was only 4.4%, with emerging markets growing better at 4.8% than developed markets at 3.9%.
The forecast for 2023 growth was bleaker for developed markets at about 2.6%, while emerging markets could expect a collective 4.7% growth.
South Africa found itself at the lower end of the emerging market growth spectrum at 1.9% for this year and with forecast growth of 1.4% in 2023 – far below what is needed to turn the country's unemployment figures around but far better than the -6.4% contraction of 2020.
Mhlanga explained that lacklustre global economic growth could be attributed to the economic shock caused by the kneejerk response to the outbreak of the Omicron variant, as well as the lingering consequences of the Delta variant outbreak earlier.
These effects were still being felt globally, reinforcing uncertainty in terms of global economic recovery.
He noted that supply chain constraints on global trade continued to keep inflation elevated globally, with all input costs to production rising sharply since June 2020. Shipping costs, in particular, had inflated to about five times what they were before the outbreak of Covid-19.
The impact of these rising costs is that the US has seen a 40-year inflationary high, the UK has seen a 30-year high, with Europe, in general, experiencing all-time high inflation rates.
"Inflation is no longer transitory. It is persistent," Mhlanga said.
He said that, although inflation was rampant in developed markets, it was relatively well contained among emerging markets.
However, Mhlanga noted that a Russian invasion of Ukraine – which he deemed likely – would push oil prices beyond $100/bl. When coupled with other rising energy costs, as well as increased food costs and increased prices for manufactured goods, that would contribute to inflation continuing to rise in emerging markets.