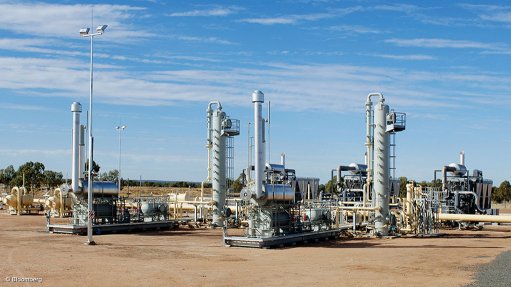 Photo by: Bloomberg
PERTH (miningweekly.com) – Federal Resources and Energy Minister Josh Frydenberg said on Wednesday that unconventional gas extraction was an important part of Australia's economy.
Speaking on the sidelines of the eighteenth liquefied natural gas (LNG) conference, in Perth, on Wednesday, Frydenberg noted that about 40% of gas supplies on Australia's east coast was sourced from unconventional gas.
"I have seen firsthand how it can be done in an environmentally sustainable manner. I understand that in the initial development of the industry there were some players that gave the industry a bad name, but processes have improved and there can be an effective and productive co-existence between gas companies and land owners. It has been done very effectively in Queensland and there is no reason it can't be done elsewhere," the Minister said.
Frydenberg told delegates at the conference that a greater dissemination of information was required in order to combat moratoriums that were in place in certain states against unconventional gas exploration and extraction.
"I would like to see more information put on the table that will ensure that gas comes out of the ground and that will help our export market, as well as our domestic market, and we can drive down the cost of doing business here."
Despite the declining gas prices, Frydenberg remained optimistic about the future of Australia's gas industry, saying on Wednesday that by 2020, the country would supply about 40% of China's gas needs, 40% of Japan's gas needs and 25% of Korea's gas needs, while overtaking Qatar as the world's largest LNG exporter.
Frydenberg said that in an effort to contend with the changing supply side of the LNG industry, where more supply was coming on line as resources were developed around the world, the Australian LNG sector and government had to drive productivity improvements and enhancements.
For the government, this would mean continued policy reform, greater labour market flexibility, and the streamlining of environmental approvals.