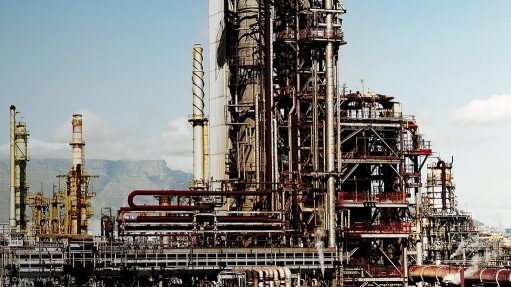 Cape Town refinery.
Photo by: Astron Wesbite
JOHANNESBURG (miningweekly.com) – Astron Energy's oil refinery in Cape Town, where a fire broke out last month killing two people and injuring seven others, remains closed while a full investigation into the incident is carried out.
The former Chevron 100 000 bbl/d Milnerton refinery – which with the Caltex brand now fall under Astron Energy, a Glencore group company – was restarting after a planned maintenance shutdown when the fire broke out in the early hours of July 2.
In response to Mining Weekly during last week's media conference that followed Glencore's presentation of half-year results, Glencore CEO Ivan Glasenberg said: "It's under investigation, so we're waiting to see when it reopens, and then there will have to be repairs to the plant. We're uncertain of exactly when the plant will come back on stream at the moment."
The London- and Johannesburg-listed Glencore last year partnered black economic empowerment (BEE) consortium Off The Shelf Investments in the $1-billion acquisition of Chevron South Africa by Astron, which now has a number of years to transition away from the Caltex retail branding.
The transaction, which involved Astron investing about R6-billion into the refinery over five years, includes a lubricants manufacturing plant in Durban with a total blend capacity of 60-million litres, as well as the network of 850 Caltex branded service stations.
As Mining Weekly reported in February, the Milnerton refinery, which produces petrol, diesel, jet fuel, liquid petroleum gas, bitumen gas and other speciality products, had been supplying ships docking in Cape Town harbour with low sulphur fuel oil that meets stringent new International Maritime Organisation (IMO) regulations.
This followed Astron investing R400-million to facilitate the production of very low sulphur fuel oil (VLSFO) at Milnerton. The production of VLSFO fuel, which has a sulphur content of 0.5% compared with the previous level of 3.5%, met the IMO's January 1 global deadline. Astron's VLSFO is also available at Richard's Bay harbour. Astron CEO Jonathan Molapo said at the time that meeting the new IMO regulations with VLSFO was vital for Astron and the ports.
Glasenberg in February described Astron's acquisition of the oil refinery and fuel distribution station business in South Africa as "a nice short to have for the trading business".
Glencore's trading business was its star half-year performer in delivering record half-yearly adjusted earnings before interest and tax of $2-billion, which allowed the company to raise its full-year guidance to the top end of its long-term range of $2.2-billion to $3.2-billion.
In addition to South Africa, Glencore's oil division has fuel outlets in Mexico and Brazil, which benefit on the trading side of the business.
"It's something we like in the oil trading division. We can supply crude into the refinery and then distribute from there. So, it's a nice short to have for the trading business and it fits our portfolio," Mining Weekly quoted Glasenberg as saying earlier this year.
"We've also got a large amount of distribution stations in Brazil. That's a business that our oil department has developed slowly and we'll see how it goes and that's how it operates in South Africa," Glasenberg said.
In 2018, Glencore Energy signed an agreement to acquire 78% of Ale Combustíveis, Brazil's fourth-largest fuel distributor, which has a network of 1 500 stations in 22 states and about 260 convenience stores. This followed investment in the Mexican downstream sector through G500.
In April 2019, Glencore South Africa Oil Investments consummated its acquisition of 75% of Astron and 100% of Astron Botswana, the two businesses previously owned and operated by Chevron.
Glencore's work with Astron drives growth in the businesses as well as increasing the BEE ownership and localisation of the fuel business in South Africa.
In March, Molapo told the African Refiners & Distributors Association (ARA's) annual ARA Week, in Cape Town, that South Africa had a growing demand for fuel products and that investment in South Africa had positive potential. He pointed out that South Africa had the highest fuel consumption in sub-Saharan Africa.
He said significant investment was needed in refineries in South Africa on the back of the changing refining landscape. This included an increased demand for higher octane gasoline. Climate change regulations, carbon tax and the focus on clean fuels were driving the change.
Catch-up was needed in South Africa as traditional majors had disinvested and been replaced by traders looking for downstream integration. Investment in the retail and commercial sales channels to grow its market share was also planned.