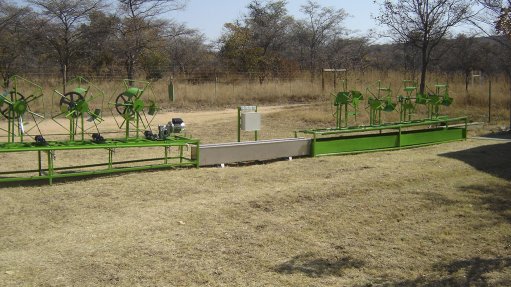 SOUND TECHNOLOGY The Greendrum device can effectively clean driplines without the need for chemicals
Irrigation systems manufacturer Senter360 has partnered with local inventor and farmer Leon Lingnau to bring his proprietary ultrasonic dripline cleaning system Greendrum to the market on a commercial scale.
The first co-manufactured unit was sold at this year's NAMPO Harvest Day, in the Free State, in May.
The Greendrum, which Lingnau developed on his farm, uses ultrasonic sound to clean driplines for maintenance and restoration purposes, negating the need for environmentally harmful chemical flushing.
"I am excited about the technology behind Greendrum. It is definitely the most effective way of cleaning dripper lines," says Senter360 MD Theuns Dreyer.
He explains that most driplines need replacing after about five years, despite farmers cleaning them multiple times using chemicals. However, the ultrasonic technology developed by Lingnau cleans so thoroughly that their life span can be extended to more than 20 years.
While drip irrigation is widely considered to be the most efficient irrigation system, it is undermined by severe clogging. Research and testing performed by the Agricultural Research Council's Institute for Agricultural Engineering (ARC-IAE) has shown that clogging cannot be avoided, despite efforts to maintain and treat the lines using chemicals.
Such clogging can occur because of silt from dirty water, bacteria and fungi build-up, chemicals from fertilisers, and metals – such as iron and manganese – that collect in the pipelines over time.
Most existing cleaning approaches – such as filtration, flushing and chemical treatment – only clear out organic build-up, such as bacteria and fungi, but fail to clear out other kinds of build-up.
In a study performed by the ARC-IAE about two years ago, it was found that dripline emission uniformity deteriorated by about 10% a year.
When testing the Greendrum, the ARC-IAE found that there was 73% improvement in the coefficient of variation (CV) – from a poor CV figure of 10.57% before ultrasonic cleaning to 2.85% afterwards.
According to the ARC-IAE, the driplines being tested could not be cleaned at all using any other method; the Greendrum was, therefore, the only effective solution.
"When the ARC-IAE tested the device, flow rates improved by 365%," Lingnau tells Engineering News.
The Greendrum's principal component is a stainless steel bath, which houses proprietary technology that produces ultrasonic frequencies to create millions of tiny vacuum bubbles on every surface of the dripline which then implode. This causes shockwaves that completely strip all impurities – even manganese and iron build-up – in seconds.
Currently, several models are available, including mobile and stationary units, which can clean driplines at between 450 m/h and 900 m/h at a cost of about 8 c/m.
Lingnau – who had been manufacturing the devices one at a time until his partnership with Senter360 – says a client recently paid R135 000 for the smaller unit but saved about R1.5-million because he did not have to replace driplines.
"The first unit I ever sold saved the client about R7-million because the device restored the driplines to almost brand new."
He emphasises that savings on dripline replacement costs are just the beginning, as driplines operating at maximum efficiency leads to increased crop production for farmers.
Dreyer adds that the cost of about three chemical flushings – which are performed according to the quality of water – equates to the cost of a new Greendrum unit.
Although the Greendrum price-tag is quite high for smaller farmers – between R135 000 and R225 000 – larger farmers should have no problem justifying the cost, he says.
"However, we have seen smaller farmers wanting to club together to buy a unit, which they will all share, thereby making it quite viable."
Another possibility, according to Lingnau, is for a business to buy a unit and then clean farmers' lines for a fee or perhaps refurbish clogged lines for resale.
Currently, Senter360 handles the manufacture of the mechanical components of the device, as well as the marketing and sales, while Lingnau continues to manufacture the principal ultrasonic device himself.
Although negotiations are under way with major international irrigation solutions manufacturers for the sale of Lingnau's proprietary sonic technology, nothing has been finalised.
Lingnau states that he is still open to offers from the market.