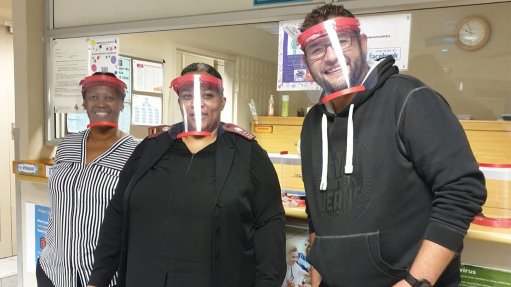 The face shields made by UJ Makerspace laboratory
The University of Johannesburg's (UJ's) three-dimensional (3D) innovation laboratory Makerspace has been mobilised to help in the fight against the spread of Covid-19 by producing face shields to be used by frontline hospital staff as cases of the virus continue to rise in South Africa, and especially within Gauteng.
The Doornfontein campus' Makerspace laboratory was launched in 2017 with the aim of helping students think and innovate in a 3D world.
The team working there have now begun using 3D printing to produce surgical face shields to help meet the rapidly growing need for personal protective equipment (PPE) for healthcare workers.
The PPE is being distributed for free to healthcare professionals.
To date, ten shields have been distributed to various campus clinics at UJ, with another 15 set to be delivered to healthcare provider Netcare 911, says UJ Makerspace expert Rudie Strauss.
"Makerspaces are places where you can do prototyping and small-batch production very rapidly and inexpensively," he says.
This comes at a time when State suppliers are scrambling to secure essential equipment such as ventilators, masks, gloves, respirators and sanitisers from local and international manufacturers.
These items are running critically low worldwide as the virus spreads uncontrollably in some regions.
The Makerspace team produced the face shields using a piece of polyethylene sheeting, which is attached to the visor to act as a protective barrier between healthcare workers and patients. The polyethylene can be either sanitised between uses or replaced.
At least ten shields can be produced a day at the Doornfontein lab; however, the team is working on designs solely involving laser cutting that could increase the rate of production to more than 50 units a day.
"The equipment is in demand right now, as we are being forced to come up with improvised solutions to address the lack of traditional equipment and devices," highlights Strauss, adding that the material being used is hard to find.
The dead frames for the face shields are made by 3D printers and the shields are laser cut from sheets of old and thick transparencies, which were previously used for teaching at UJ. Strauss explains that one of the unforeseen advantages of these face shields is that they are recycling old transparency sheets that would otherwise be adding to plastic pollution.
Strauss says that although the shields are not made to medical standards, they can be printed on-demand for use when better alternatives are not yet available.