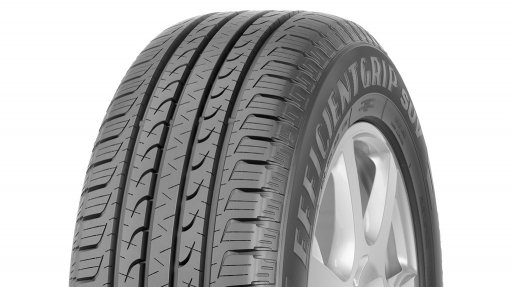 TOP SPOT Goodyear's premium EfficientGrip SUV tyre came out top across 15 wet and dry disciplines
Three of tyre manufacturer Goodyear's tyres, namely the Wrangler MT/R with Kevlar, the EfficientGrip SUV tyre and the Eagle F1 Asymmetric 2, were all awarded first place in their respective categories in recent motoring magazine tests.
"Tested against several other brands, all three tyres came out on top across a number of comprehensive tyre tests," the company notes, highlighting that in the first South African adventure magazine test of its kind, Goodyear's rugged MT/R with Kevlar tyre was tested by South African magazine Drive Out/Wegry, in a feature titled 'The big MT tyre shootout'.
Multi-terrain, or MT tyres, are robust tyres designed for off-road conditions. Goodyear notes that the tread design and construction of MT tyres is more aggressive than other 4×4 tyres such as all-terrains. Drive Out/Wegry magazine chose the vehicle testing facility at Gerotek to conduct tar tests, and the De Rust Outdoor centre near Hartbeespoort dam, in North West, for gravel, rock and mud tests. The tyres were fitted to Ford Ranger 4×4 double-cab vehicles.
The magazine tested ten different brands in five comparative tests, varying from wet and dry braking distance to lap times, rocky hill-climbing tests and side-wall penetration.
The Wrangler MT/R with Kevlar achieved an overall result of 234.29 points out of a possible 250.
Meanwhile, Goodyear's premium sports utility vehicle, or SUV tyre, the EfficientGrip SUV, was tested by German automobile magazine Auto Bild, against 11 other SUV and 4×4 brands at a test centre in San Angelo, Texas.
With the tests conducted across 15 wet and dry disciplines, such as traction grass, gravel, sand, mud, and gravel slalom, the EfficientGrip SUV was an outright winner, displaying "excellent wet grip" and a "very short wet braking distance".
The EfficientGrip SUV also performed well in dry terrain in terms of steering response and cornering, earning first place as the most balanced tyre overall and an "exemplary" rating by the test team.
Goodyear's high-performance Eagle F1 Asymmetric 2 tyre was also tested by German automobile magazine Auto Zeitung against 14 other high-performance tyre brands. Fitted to a 1.8 litre Audi A3, the tyres were evaluated in both wet and dry conditions.
With the highest average score of 269 points out of a possible 300, the Eagle F1 Asymmetric 2 was described as "safe, fast and even economical", according to the company.
About Goodyear
Goodyear employs about 67 000 people and manufactures its products in 50 facilities across 22 countries worldwide. It has innovation centres in Akron, Ohio and Colmar-Berg, Luxembourg, which aim to develop state-of-the-art products and services that set the standard for technology and performance in the industry.