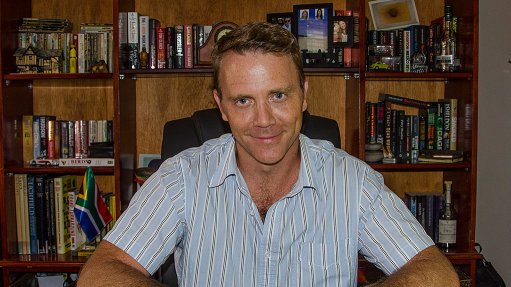 SIMON SMITH Triton-Leo maintained double digit growth for the past seven years
Despite influencing factors, such as the rand:dollar exchange rate, and the stagnant prices of fuel and raw materials, lubricants producer Triton-Leo believes that the market will remain stable this year as it focuses on growing its business and product sales.
"We maintained double-digit growth for the past seven years and foresee the same for this year – 2016 promises to be a bumper export year," says Triton-Leo MD Simon Smith. He adds that the depreciation of the rand and the company receiving its first export order from India (its latest international distributor) before company doors had even opened for business this year "means we can achieve projected growth".
The worldwide expansion of the company's Q-range brand has led to commendable growth rates, insuring that exports now constitute 15% of sales, with a possibility for even more growth in 2016, Smith states.
"Triton-Leo's Q20 multipurpose lubricant has become a must-have item in any toolbox, and we now distribute the Q-range across 62 countries, three of which produce the products under licence," Smith points out.
He reiterates that the South African market remains ever important to the company's success. "The South African market is our nest egg and we are grateful to the South African consumer."
Q20 has become a well-loved brand in South Africa since its introduction to the market in 1950, and this was followed by sales success of the product internationally.
To insure its continued growth in industry, Triton-Leo plans to maintain customer relations, ensure that the product is well represented at retail level and market its products in various media platforms. It also focuses on improved representation and in store display, distributor programmes, staff training and product packaging enhancements.
"We have a simple saying in our small company: We refuse to partake in a recession," Smith quips, adding that, as a result, the company aims to reach higher targets than it did in the previous financial year.
Moreover, following Triton-Leo's acquisition of South Africa-based chemicals manufacturer Flight Chemicals in October 2015, the company has added several new items to its product line, which include the Flight hand cleaner, the all purpose cleaner Flight Spray Klean and the M7 degreaser.

Olifantsfontein Factory
Since moving to its larger, 2 950 m2 factory in Olifantsfontein in 2014, Triton-Leo has been producing about 12 000 units of aerosol a day, or 600 000 units a month – a 40% increase in production from its previous premises.
"We have chosen to retain a semi-automated manufacturing process with a large percentage of manual processes, as part of our commitment to our incredibly long-serving and loyal staff complement. "We have also been using Pamasol aerosol filling systems from Switzerland to bottle Q20 for 30 years and have recently added a third filling line, which is running perfectly," Smith explains.
"Owing to international demand, all three lines only fill Q20. We are able to fill the other products through a contract filler. We need the extra capacity to keep up with the growth in Q20 and all the other Q product sales."
The factory also includes a blending facility, enabling Triton-Leo to consider new ventures in the oil and lubricants market.
"We are planning to add to the Q product range in the near future. Also, our newest product, the Q30 super protective film, is being well received by the market," he concludes.