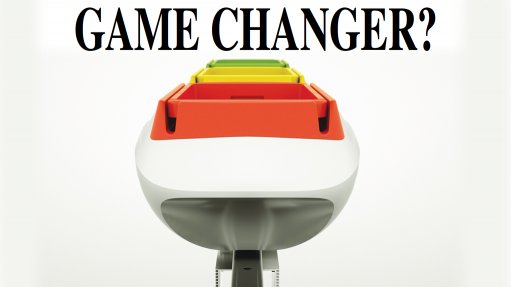 UK company Magway has won cofunding support of more than £650 000 from Innovate UK, through its emerging and enabling technologies competition, to build a 150 m hyperloop-type demonstration link for high-speed package delivery east of London.
Innovate UK is the UK government's Research Agency.
The funding will add to Magway's recently closed seed-funding round and will enable the company to lead a consortium in building an operational demonstrator to illustrate how the full-scale package delivery system will operate.
The relevance to South Africa is that Magway's CEO and founder is 45-year-old Rupert Cruise. Cruise graduated in 1994 with a BSc (electrical engineering) degree from the University of the Witwatersrand (Wits); his final-year project investigated the control of linear induction motors for deep-level mining hoists.
He filed his first patents on linear motors in 1998.
Cruise worked on a number of South African mine-related projects, before starting an MBA at Oxford University in 2000 on the back of the gold price sliding to $280/oz.
He settled in London in 2001, starting a company called Texchange. In 2015, this became Linear Motion Technologies (LMT), with Magway spinning out of LMT in 2017.
Projects on Cruise's curriculum vitae include designing linear synchronous motor systems for a US Navy aircraft carrier, working in partnership with Chris Lines, a master's student at Wits.
Cruise and Lines also assisted Hyperloop One (later to become Virgin Hyperloop One) on the analysis of the design of the company's linear motors and eddy current brakes.
Today, Cruise and his wife and children live in North West London.
"My parents and other family members still reside in South Africa and we go back 'home' at least once a year," he says.
What Is a Hyperloop?
Hyperloops are the stuff of transport engineers' dreams. Deemed a radical game changer, it is land transport at the speed of an aircraft at roughly 960 km/h.
As US television channel CNN explains, the trick to the hyperloop is magnetic levitation. When you push the same poles of two magnets together and they repel each other, the repulsion forms the basic principle of a hyperloop, except one set of magnets is on a rail track and the other on a train.
All you need now is a way to make the train go forward and this is where companies like Magway come in, as they make the motors required to push the train forward.
"The motor system is essentially a system of electric coils and we group these in a certain configuration," explains Cruise. "This setup creates a travelling magnetic wave – a bit like an unbroken wave coming into a beach.
"Mounted to the vehicle is a magnet array of very high strength permanent magnets, and this magnet array basically surfs the travelling magnetic wave created by the electric coils."
As the train does not touch the track, there is less friction. Also, any resistance is removed as everything is placed in a vacuum in a tunnel, which means the 'train' can potentially travel up to 960 km/h.
This tunnel can be placed aboveground or underground.
Magway's intellectual property combines technology from high-voltage distribution and high-speed transport systems, as well as design from professional cycling and motor sport.
Revolutionising Ecommerce
A Magway pipeline can be summarised as a zero-emissions solution to the increased volume of parcel deliveries, resulting from the rapid growth in ecommerce, explains Cruise.
It can also be regarded as a high- throughput and small-footprint transport link, as the lightweight unmanned vehicles travel along small-diameter enclosed guideways, moving goods rapidly, safely, reliably and sustainably.
This means the system reduces the impact of heavy goods vehicles (HGVs) and light goods vehicles on the environment and the already inadequate road infrastructure.
It will also reduce road maintenance.
"Combining a novel application of tried and tested technology and our own intellectual property, Magway has the potential to revolutionise ecommerce logistics," says Cruise.
"Our aim is to roll out a fully operational system that will transport goods directly between multiple customer fulfilment centres to central consolidation centres by way of pipes.
"Our solution utilises small-diameter (0.9 m) high-density polyethylene tubes similar to those currently used by major utility companies, with linear motors transporting the goods inside these pipes."
Cruise says this diameter can accommodate all the online grocery delivery market and more than 90% of the broken parcel deliveries coming out of UK distribution centres.
As such, Magway is low impact, has relatively low capital investment and substantially lower operating costs than the current modes of transport being used, such as HGVs, he notes.
"At the same time, it enables etailers to better service customers, improving flexibility and reliability at a reduced cost for outwards orders, as well as returns."
Other advantages include the fact that the loading/unloading processes inside the pipes are automated, using advanced computer control systems, so that vehicles containing individual orders or small groups of orders travel rapidly and with short intervals between them, says Cruise.
Also, the vehicles are powered using linear motors, which are reliable as they contain no moving parts.
This means that the system can be low maintenance and, if necessary, be routed underground like gas or water mains.
The small diameter of the structure also means that it has a minimal environmental footprint and is energy efficient and cheap to operate, says Cruise.
"Hence, it is a tested solution that is secure, not vulnerable to payload theft, is not limited by weather, driver error or shortage, and will deliver considerable savings to retailers and subsequently their customers."
In short, he says, "Magway represents a significant improvement over road transport and is a game changer for ecommerce logistics".
On the Horizon
Magway is currently building two demonstration projects.
One is a small, privately funded 12 m demonstrator line at the company's test facility in Wembley, with the second project being Innovate UK's 150 m demonstration line.
For the first project, Magway is working with a major online retailer.
However, in the longer term, Magway is also planning to install a line along a 35 km route from Hatfield, north of London, to Old Oak and Park Royal, near Wembley, together with a consortium of commercial and government partner organisations.
The link will have the capacity to transport more than 600-million parcels a year.
"Our initial main trunk line will run into a central consolidation centre in Park Royal/Wembley – the so-called 'middle mile' in logistics speak – which will be fed by a number of tributaries running directly from various local customer distribution centres," says Cruise.
The 'last mile' will be implemented by third-party logistics partners and, using modes such as ebikes, evans and click-and- collect, it presents an end-to-end clean delivery solution.
Ultimately, the aim is to install multiple Magway pipelines across the UK and internationally, notes Cruise.
"Our estimates indicate that Magway costs less than £1-million per kilometre to install."
A Magway pipeline will only transport goods, and not people, as envisioned by Tesla founder Elon Musk, who coined the term 'hyperloop'.
"We believe that a fully functioning hyperloop – as in transporting people at speed – is at least 10 to 15 years away from commercial operation," says Cruise.
"However, Magway, transporting small freight can be implemented commercially today and there should be fully operational routes within the next two to three years – contingent on planning and other regulatory permissions."