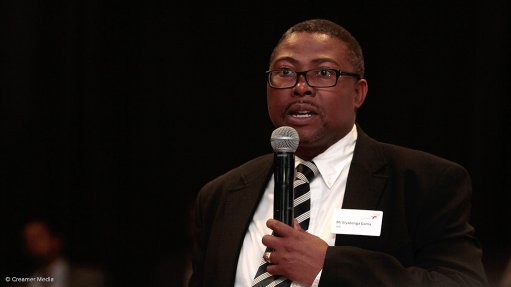 Transnet acting CEO Siyabonga Gama
Photo by: Duane Daws
Freight logistics group Transnet has secured a R2.8-billion loan from Germany's KfW Development Bank to fund part of its 1064 locomotives acquisition programme.
Transnet would use the proceeds to fund the acquisition of 240 electric locomotives to be built in cooperation with Bombardier Transportation at Transnet's manufacturing facilities in Durban.
Transnet acting CEO Siyabonga Gama and KfW head of infrastructure in Southern Africa Dr Jan Martin Witte signed the agreement on Monday.
"The agreement is evidence of Transnet's focus on agility and innovation in raising the required funding to execute its R336-billion rolling seven-year infrastructure investment programme – the Market Demand Strategy.
"Agreements like this are an affirmation of Transnet's successful efforts in strengthening its financial position and confirm that the company is on the right track. They are an attestation of the attractiveness, commercial viability and bankability of Transnet and its projects from reputable international investors," the State-owned group said.
The loan would mature in 15 years, with a five-year grace period in which Transnet would only pay interest.
In line with the company's currency risk mitigation policy, the agreement was negotiated in rand terms and, therefore, had no currency risk. The cost of the loan was in line with the company's average cost of debt.
The German federal government had issued a partial guarantee for the loan.
German ambassador to South Africa Dr Horst Freitag commented that the German government was "deeply impressed" that Transnet was investing R50-billion to manufacture the 1 064 locomotives.

In March 2014, Transnet awarded a contract for the building of 1 064 diesel and electric locomotives to four global original-equipment manufacturers.
The company awarded China South Rail (CSR) Zhuzhou Electric Locomotive and Bombardier Transportation contracts to build 599 electric locomotives and; General Electric Technologies and China North Rail (CNR) Rolling Stock contracts to build 465 diesel locomotives.

All but 70 locomotives would be built at Transnet Engineering's plants in Koedoespoort, Pretoria and Durban.
"Germany supports South Africa's strategy to increase the efficiency and capacity of its freight transport sector, aiming for a modal shift from road to rail. This will reduce carbon dioxide emissions and make an important contribution to protecting the climate," said Freitag.

Earlier this month, Transnet concluded a R30-billion loan facility agreement with China Development Bank to fund the acquisition of 232 diesel and 359 electric locomotives being built in cooperation with CNR and CSR respectively.
Further, Transnet, in March, announced that it had secured separate funding agreements with the Export-Import Bank of the US and Export Development Canada, worth a collective R13-billion, to fund the acquisition of locomotives from General Electric and Bombardier Transportation.